Tips to ensure you and your horse stay safe this winter.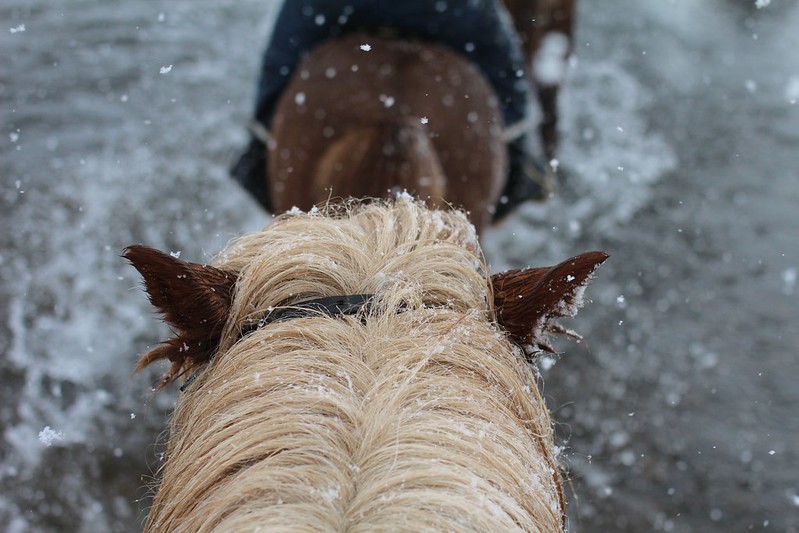 Every equestrian finds the winter months challenging but finding the time and good conditions to ride in can be an even bigger challenge. With frozen arenas, fading light and icy weather conditions to contend with, working our horses in winter is no easy task.
Here are a few ways to ensure you and your horse stay safe this winter.
The darker days and longer nights restrict our riding time, meaning, often we put our riding on hold to do the other jobs on the yard like mucking out and poo picking. If your horse has been in full time work during the summer months but you don't have the facilities or time to keep their routine going in winter, slowly reduce their workload down weekly to allow their body time to adjust to the change.
If you're lucky to have enough light to ride in, frozen arenas or wet, muddy fields can dampen your chance of a ride. Working horses on hard, frozen surfaces or in paddocks with poor footing can cause injury and no one wants a vet bill coming their way! Thoroughly inspect any surfaces you're planning to ride on and if needs be, play it safe by sticking to slower, low impact exercise. 
Just like us, our horses feel the cold and during colder days horses won't move around the field as much as they might do in summer. Depending on your yard or your horse, some horses might be stabled in winter, again minimizing their movement. When working our horses it is vital they have a good warm-up to avoid any muscular injuries. This is most important in older horses, horses that are not in full time work in winter and horses with known ailments.
A cooler or fleece rug is as important in summer as it is in winter. Horses that are not clipped in winter can become sweaty after heavy work, a cooler rug or fleece will help to dry your horse off quicker which will prevent them from catching a chill when they are returned to the stable or field.
If the weather has scuppered your plans to ride it is still a good idea to bring your horse or pony in for a quick brush down. Regular removal of your horses' rugs in winter is a good way of checking their body and coat condition. Many horses lose condition during winter, this can be down to the horse's age, health, or breed type. A good brush down keeps mud and grease from building up, keeping them cleaner for when you can ride.
If you enjoyed reading this, you may also like to read Winter Footwear