We've asked three specially selected product testers and their horses to put the WeatherBeeta Horse Rugs to the test.
WeatherBeeta has over 40 years of experience in creating long lasting, high-performance horse rugs which can be seen worn by horses worldwide. These much loved rugs are designed by equestrians and made to suit every horse's needs. We have hand-selected three horses to put three of the WeatherBeeta horse rugs to the test. The rugs we have chosen to test are designed for 'Houdini Horses', 'Rug Wreckers', and 'Rug Friendly Horses'.
Let's see what our testers had to say!
The 'Houdini', tested by Peanut…
Peanut is my 12.2hh Fell stallion, and he is a pest with his rugs! I jumped at the chance to test a WeatherBeeta horse rug. His favourite pastimes include ripping off front fastenings and putting his legs through any straps possible. At best, this means a pony not wearing his clothes (not ideal mid-winter!). At worst, when he gets himself in a tangle, he tends to end up with cellulitis.

Pea is in between sizes, and I tend to find that 5'3 rugs are too snug on him. Due to his tendencies, having too much room in a rug can cause issues. My first thought on trying on the WeatherBeeta ComFiTec Premier Free II Detach a Neck was that it did look quite big, however, the belly straps had lots of adjustment which meant they fitted snug enough to be safe. I was happy to see leg straps rather than a fillet string, it meant he couldn't get his back legs caught anywhere! The best bit was the front fastening; the hidden EziBuckle closure meant that Pea hadn't got much to get his teeth around. It was much harder for him to get up to his usual tricks of removing the front buckles!

This rug also has lots of wonderful little details. The memory foam wither pad is a great idea to help relieve any pressure and make the rug more comfortable. I like to leave my horses in their turnout rugs in winter rather than swap rugs constantly, so long-term comfort is very important. The leg straps are elasticated, again just making them comfier, I'm sure, especially when you are a stallion! I also love the reflective detailing, perfect for tracking down your black pony in the dark winter evenings.
The Verdict

Ultimately, this rug looks and feels exactly as you would expect from a 1200D rug. It feels hard-wearing, and I was very impressed that after a very wet day, I could barely even tell that the rug had been rained on! The 100g fill makes it super versatile too, and it has been perfect since Autumn made its sudden appearance. Pea certainly seems very happy and comfortable in it which is the most important thing!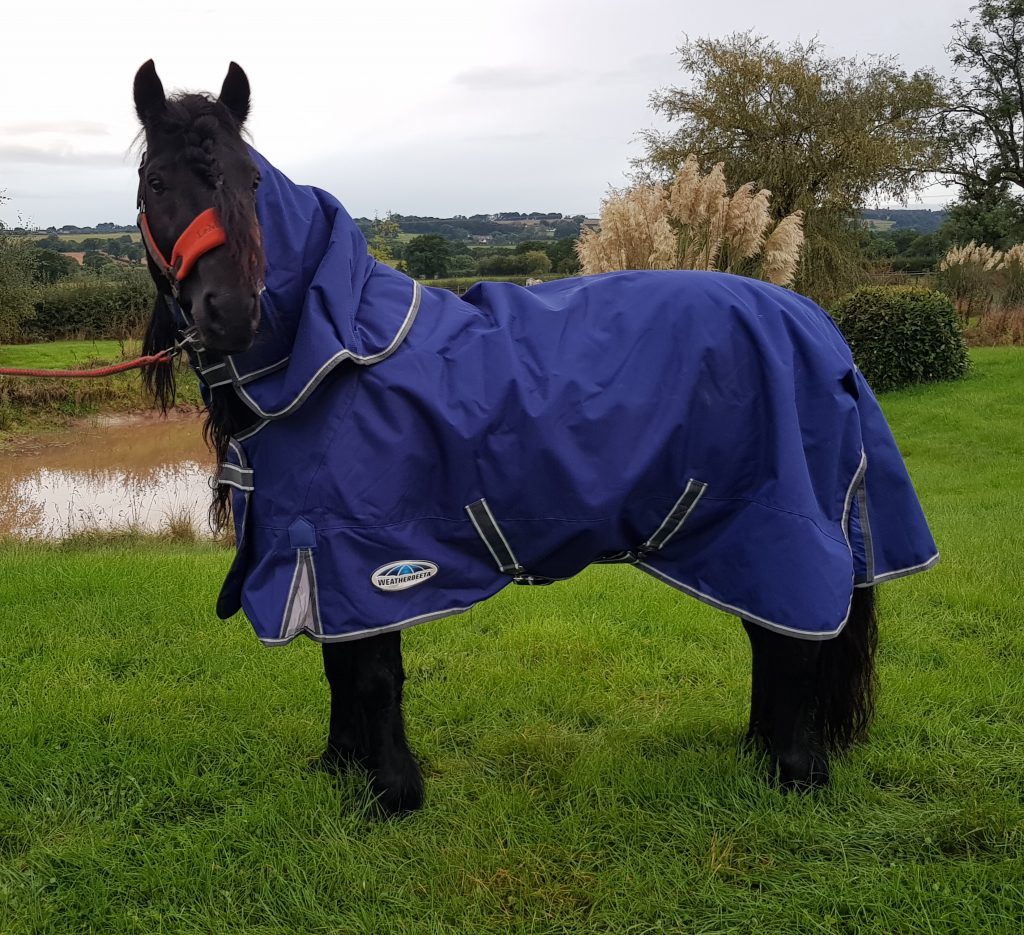 The 'rug friendly horse', tested by Poppy…
Happy to be chosen by Rideaway, me and my lovely ISH mare, Poppy, were lucky enough to review the 'Rug Friendly' ComFiTec Ultra Cozi detachable neck 100g turnout WeatherBeeta horse rug. I can certainly say it's the best rug that's ever touched Poppy's back! 
We absolutely loved all the features and fit of the rug. We usually struggle to get a rug to fit with Poppy's broad shoulders and neck but this one gets 10/10 for fit! 
The removable fleece neck piece attached to the inside of the neck is one of my favourite features. It is a really good idea to keep the chill from down their necks. The cozi guard strap just oozes comfiness!
Another feature I loved is the adjustable belly wrap! As we all know rugs are brilliant for keeping the top half clean and dry but when you have a roller or excitable pony their belly usually takes the hit and it's a task brushing/drying them off, especially before riding! Well, Poppy, as her stable name suggests (Party Girl), loves a dance. I can confirm that despite her love for defying gravity, the belly wrap stayed in place keeping her clean and dry!
The memory foam wither relief is a godsend. Poppy, like most horses doesn't like pressure on her withers. She often pulls faces when rugging up.
The verdict
Poppy is a great rug reviewer as although she is rug friendly horse, she does test their durability. A few rugs have failed her need for freedom to bust her moves but this rug has really held its own. Beautifully made, this rug fits perfectly, and proved to be Poppy proof!
Thank you for letting us review this rug, we would definitely recommend it and would certainly buy one!!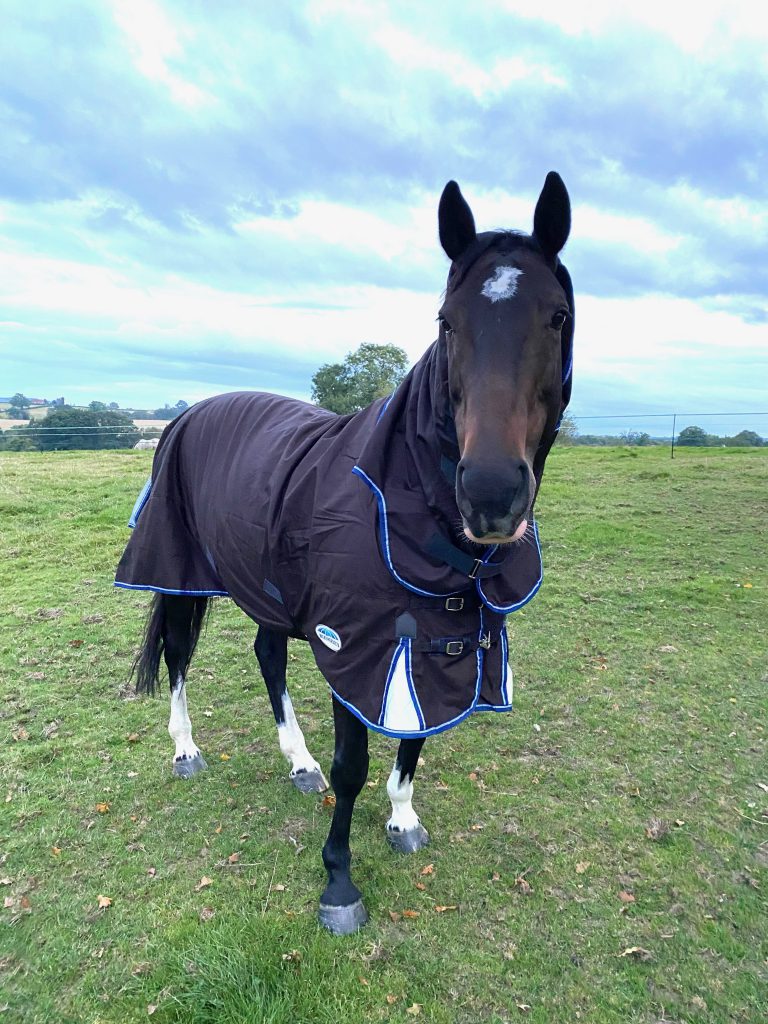 The 'rug wrecker'…
I have loved testing out the WeatherBeeta horse rug, the one I tried was the ComFiTec Ultra Tough Turnout Rug. I love the detach-a-neck feature. It really makes the rug versatile and keeps his mane in top condition without any rubbing. The best bit is there is no gap between the neck attachment and the rug. Even when my horse has his head down eating, so he doesn't have any of his neck exposed to the cold or rain! Amazing! Usually, there is always that little gap, no more.
Avoiding his chest from being exposed, there is also an additional attachment which does up under the neck. Helpful especially in winter as my horse is clipped, I found it to keep him lovely and warm with no skin subjected to the elements. The tail wrap is brilliant as it is lovely and big and really does wrap him in the rug. The reflective bits make it so easy spotting him in the low light / darkness!
The verdict
This rug is amazing and everyone at my yard wants one! So smart looking and just as practical.