Protecting people is the core mission of the Uvex brand whether it is gloves, eyewear or helmets for sports, leisure and work.
Uvex protect people from head to toe and have done so for more than 90 years. Setting the highest standard in helmets and riding gloves. Uvex provide cutting edge products that are designed to last.
Said Simon Middleton of Uvex, UK distributor Zebra Products: "The protection of customers is the motivation, whether elite athletes or casual sports enthusiasts. Uvex set the highest standards when it comes to new product development and innovation."
As one of the world's leading producers of protective products and with their "made in Uvex" promise of quality, they maintain stringent standards. With up-to-the-minute technologies and solutions, customer-oriented services, and best in class testing for personal protective equipment, Uvex offer everyone who places their trust in them the best possible protection.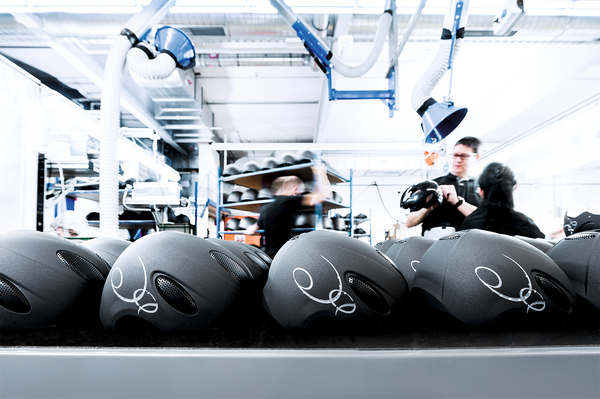 All Uvex helmets undergo rigorous tests at their in-house Uvex testing centre. As a result Uvex can guarantee the quality and functionality of all their helmets. Products are manufactured according to the highest quality standards and are subject to strict, in-house inspections which often exceed any legal requirements. All Uvex equestrian helmets fulfil the latest technical requirements for VG1 01.040 2014-12 on the basis of EN 1384:2012, which is the current certification standard for horse riding helmets.
Uvex engineers have engaged in truly innovative work, with their manufacturing expertise built upon decades of experience and the consistent application of new technologies. Most of Uvex's manufacturing work is carried out in Germany and Europe.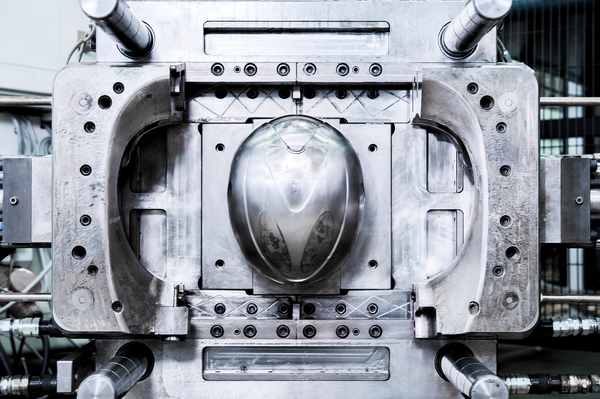 The team work closely with elite-level athletes to ensure Uvex products meet their performance demands. They have supported top athletes including event rider Ben Hobday and Lissa Green, dressage rider Michael Eilberg and Laura Tomlinson and show jumper Holly Smith to name just a few.
Uvex Riding Helmet Features
Uvex riding helmets offer many outstanding features, let's take the new Uvex Suxxeed Luxury Lady Riding Helmet in Blue for example. The luxury lady edition with leather décor, is discreetly embellished with Swarovski® Crystals and Alcantara® and is now also available in blue.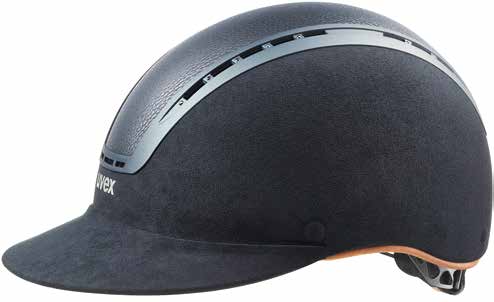 The helmet has been cleverly designed with a wider screen peak that protects the rider from the sun and emphasizes the female shape of the face. This riding helmet offers a high level of sophistication with its classy and elegant design. Leather accents and Swarovski® Crystals really set this riding helmet apart. With outstanding ventilation the Suxxeed Luxury Lady Riding Helmet adds comfort keeping heads cool whatever the weather.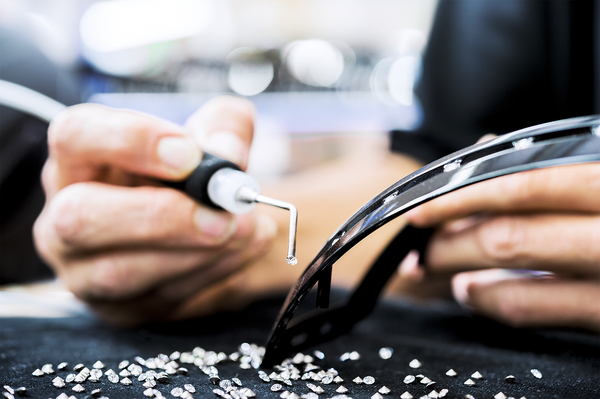 Made from high quality synthetic leather the comfortable chin strap sits perfectly and is quick to fasten thanks to the monomatic comfort closure. With one hand you can fasten and adjust with just the press of a button. The Uvex IAS 3D size adjustment system ensures the helmet can be fitted to every head, in an instant, with millimetre precision.  Alter the height and width to fit the individual head size at the back.
Protecting people the riding helmet has hardshell technology and conforms to the EN 1384:2012-02 and VG1 01.040 2014-12 safety standards.
Safety Tip…
An equestrian helmet must always be replaced after a fall or collision. The impact forces on your head during a fall are absorbed by the helmet. In another impact in the same location, the equestrian helmet can no longer fulfil its protective function 100%. Please note that depending on the force and angle of impact the helmet can even break, and should do so in order to keep the impact forces away from your head.