We've selected a few product testers to put the new Imperial Riding El Capone Winter Warm Breeches to the test.
All riders know winter comes with its downsides, if we're not battling strong winds and heavy rain, we've also got freezing legs to contend with while in the saddle. Having a pair of breeches that we can rely on is a must! We asked some real riders to put the new Imperial Riding El Capone Winter Warm Breeches to the test and here's what they had to say…
Issie's review…
Overall, I found these breeches to be comfortable, enduring, and functional.  The material was really warm on cold days but remained breathable and was never too hot. It was also water resistant in the rain and stayed clean really easily. I was happy to get them dusty and grubby at home with my own horses, then wipe them off and they instantly looked smart again to go and meet clients.
I was also a fan of the sticky seat. Some sticky seats are too grippy and interrupt my ability to use my seat in the saddle, these gave grip and reinforcement without ever getting too hot or sticking too much.
I would definitely recommend these breeches to a working equestrian who is in need of breeches that are both smart and durable.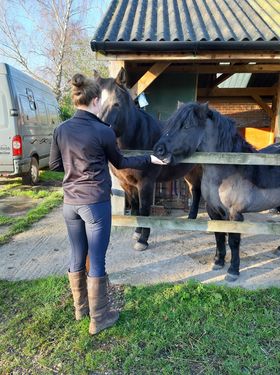 Tiegan's review…
When I first received the breeches, my first thought was how amazing the quality was. They felt thick, fleecy and seemed like they would be very durable. I have since ridden in them multiple times which has been lovely. My first impressions on wearing them was how warm and cosy they were. They fitted like a glove which I often struggle to find in riding breeches. The breeches have some pink sparkle on the front pockets, this really caught my eye – still subtle and classy but making the breeches a bit more 'stand out'. They haven't lost any gems or sparkle in the wash which I was very pleased with as I find this often happens with other brands, but they did come with a packet of spares in case any do come loose. I found the phone pocket great as it was big enough to fit my iPhone 8 plus in comfortably. My favourite characteristic of the breeches is that they are rain proof! I frequently end up with horrible, soggy, cold legs, but these breeches have been a saviour the last few weeks with the intermittent downpours.
The silicone grips on the seat are a brilliant feature as they are super sticky. I found them perfect for jumping in when my excitable young horse took some big leaps, keeping my legs firmly stuck to the saddle. They have washed very well and have not lost shape or fleeciness. I have found these breeches so amazing and I really don't have a bad thing to say about them, so if you are looking for a new pair, I strongly suggest you look no further!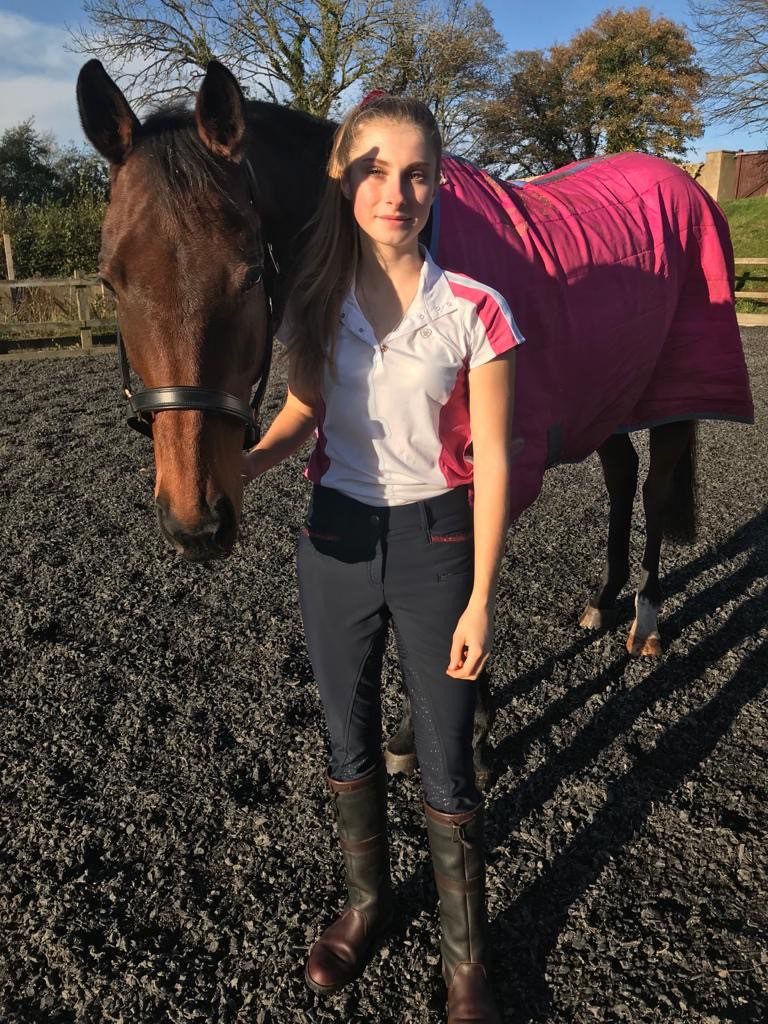 Hannah's review…
I was not disappointed by the fabulous quality of these breeches. The first day I tried them on, it was raining, I hacked out in them for 3 hours in the pouring rain, however, due to them being waterproof and fleece lined, my legs remained bone dry and warm throughout the whole ride. 
I wear them to work (mucking out and riding horses) as they are practical and really comfortable, I simply do not want to take them off! Whilst I was at work I was complimented so many times on the stylish, glittery design above the pockets and how amazing they looked.
The grip on the back helped me sit comfortably in the saddle giving me more support before the jump, however, when I flew around the course I could get myself into a good position over the jumps and these amazing breeches did not restrict me in any way. 
Because I love these breeches so much I even wore them out bush beating, where they did not fail in keeping my legs warm and comfortable throughout the walk. Despite them being fleece lined they did not make my legs sweat at all.
They are a beautiful pair of breeches which I highly recommend; I will definitely be buying some more!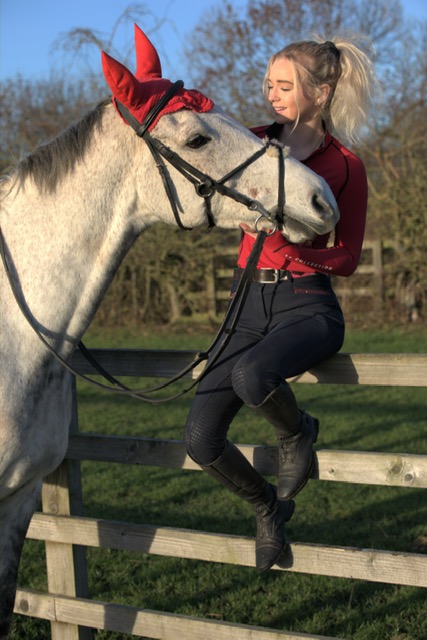 Samantha's review…
Unpacking the Imperial Riding winter breeches was very exciting, I couldn't wait to try them on. The fit was not great on me, baggy around my waist and bum but strangely tight around my knees. I usually struggle around my thighs, however they were perfect here. All that said, with a complimentary pink belt the sizing was sorted and we were ready to try. 
Everything can be done in the Imperial Riding winter breeches. They are smart enough for the nursery run and shopping, warm and grippy enough for the longest of hacks, and comfy enough (albeit not quite as flexible as summer breeches understandably due to nature of fabric) to ride polework and flatwork clinics in them.
The material has a lovely shine to it, it does show dust, however, unlike other materials it wipes off easily. This shiny material makes them wind resistant, really helpful in the biting wind. The full sticky seat means that although the material is shiny you do not slip around in the saddle at all, something my horse helped me trial whilst spooking out on a hack. The soft lining is so comfortable, not itchy or drying on the skin, making them wearable for the whole day. A lovely navy colour with a complimentary pink glittery detailing makes them stylish and aesthetically pleasing, gaining me lots of compliments whilst wearing them on the yard. They are very practical, with a huge pocket for your phone on your thigh. This makes it accessible even whilst riding, and with a discrete none bulky zip you don't risk losing it if you fall off! Additional pockets were used for treats. 
To conclude if you want a pair of breeches that are comfy enough to hack in all day, smart enough to do the school run, and roomy and flexible enough to mount from the ground if needed, then these would suit you. Personally, I wouldn't choose for a flatwork lesson as I felt they are slightly too bulky to enable the small adjustments I needed. That said, I cannot wait to try them in Trec competitions next year as they're comfy enough for a full day in the saddle, and they compliment my pink high viz perfectly.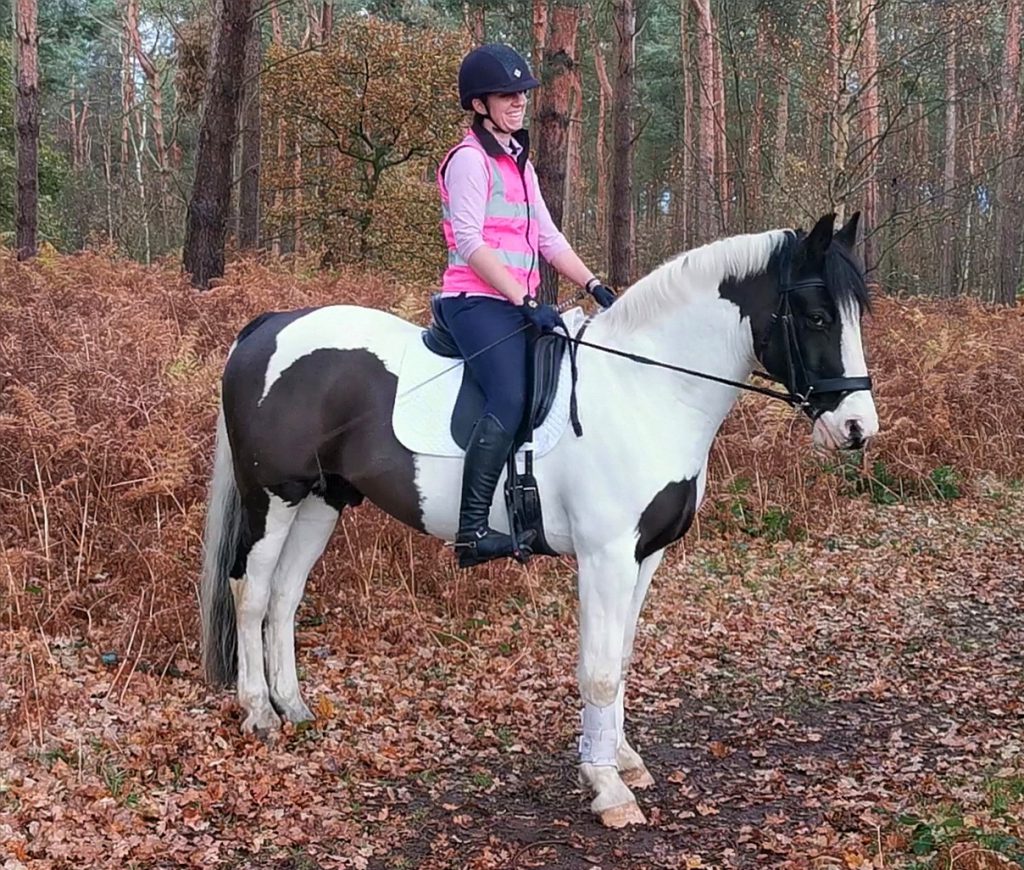 If you liked this, you might be interested in our tried and tested PreTeq Bridle blog HERE