Find out about Blossom's accident and Christie's exciting news…
Sorry for being a bit quiet the last few months…….
Life has been really hectic lately, I feel like I've blinked and months have gone by! With lots of breakers and schoolers in and A LOT of coaching, I've been working 7 days a week most weeks. And poor Blossom and I had an accident out hacking meaning she was out of action for a little while, but all is good now!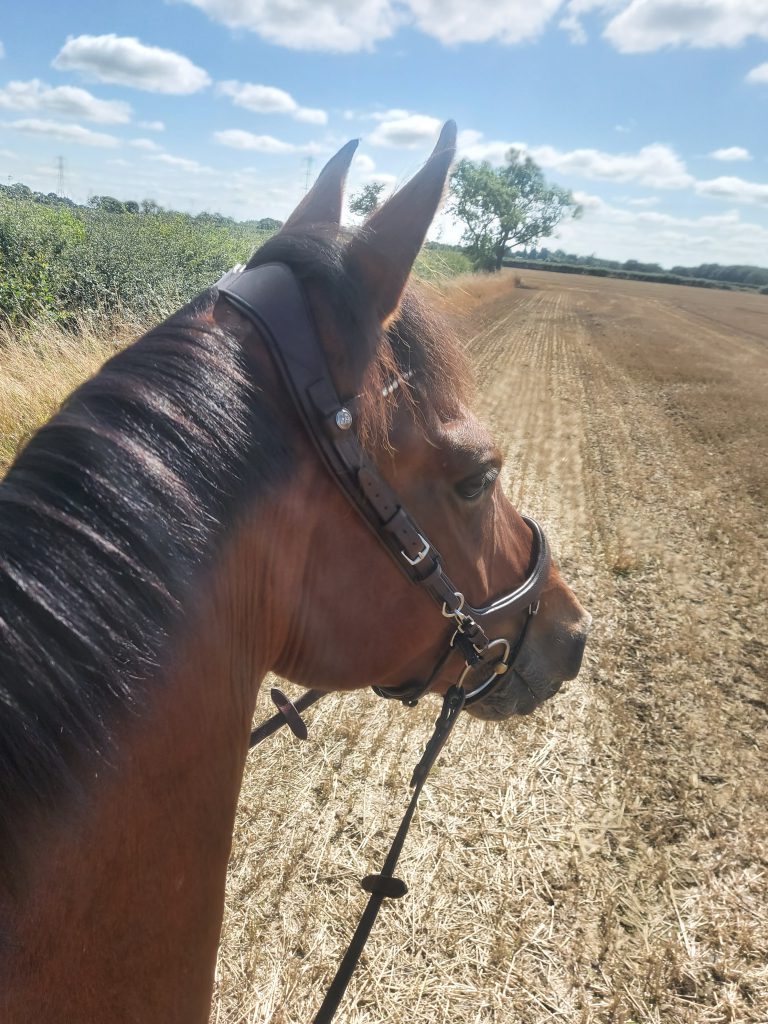 So, I had better tell you about the spectacular whoops moment we had, hadn't I ……
Blossom and I had gone out for some road work one morning, about ten minutes into our hack we met one of the local farmers in his large and noisy sprayer on the narrow lane, there was a small gateway to get out of his way which has two large drainage ditches either side of it. Blossom usually isn't fazed by traffic; however, this was very noisy and Blossom was worried. We stood still in the gateway to allow the farmer to pass but as he got alongside us Blossom stepped back a couple of steps and we dropped into the ditch. I ended up laid on my back in the bottom of the ditch with Blossom sat at my feet trying to regain her balance as she was falling backwards towards me. In a moment of panic, I started pushing her with my foot, as if I could push half a tonne of animal out of a ditch with my foot!? Funny how the brain works sometimes! Very luckily, she managed to get herself forward and scramble out of the ditch. She trotted off in panic for a few hundred yards back towards home, I climbed out of the ditch, sprinted down the lane whilst trying to call her in a calm voice. I caught up with her when she began to slow down once, she had realised what was going on. The poor girl! Now, I must make it clear that this wasn't anyone's fault, the farmer didn't do anything wrong, it was just one of those things. Blossom was pretty sore over her back and quarters afterwards and I escaped with a few bruises and a graze. A good few weeks off and a couple of physio visits later for Blossom we began bringing her back into work. When I was putting her bridle on one day I noticed her smelly breath, so I called the vet. It turned out that she had damaged one of her molars and the decaying food stuck inside the small fracture was the smell. Obviously, she must have done the damage to the tooth when she fell. A decent vet bill later and a bit more time off we had the all clear to get her back fully fit again. We are now up to jumping again at home and some fast work, just in time for the stubble fields – hurray! 

The exciting 4yo also sustained a minor injury which was enough for him to have a few months off. We got him back in ridden work and took him out to some arena hires to see different places. But we soon realised that he had had a growth spurt and consequently looked weak, unbalanced, and uncoordinated. After a good chat with his co-owner, we have made the decision to back off his training and give him time to mature.  We really don't want to rush this horse before he's ready, he will be a special lad and worth waiting for.
I can't believe it's the end of August and we still haven't been to a show yet, we had so many lovely shows planned for this summer.  But let's stay positive and hope that that's our run of rotten luck done and over with!!
It hasn't just all been setbacks since I last wrote a blog tho, I promise!
In June I snook off to the British ShowJumping national training centre to be assessed for the UKCCL3 Accredited British ShowJumping Coach qualification. (The BSNTC is where the Olympic horses quarantined before travelling to Tokyo – which I thought was pretty cool!)
I passed it! Woohoo!
There's been a lot of blood sweat and tears gone into this qualification over the last few years and it has felt like forever waiting for a practical assessment due to covid but it makes it feel all the more special now that I have it. I couldn't have done it without the awesome community of coaches I'm privileged to be a part of. 
And that's not the end of the exciting news. Off the back of gaining the L3 qualification, I got offered the job of lead coach for the Durham British Showjumping Academy which I obviously accepted! This led to me working at the Yorkshire and Durham junior academy camp at Bishop Burton which was great fun and attending the National BS academy show at Stoneleigh with the Durham teams, where I also got to watch some of the Yorkshire riders who I coach regularly. I'm looking forward to getting the Durham academy riders ready for next year's championships already!
Anyway, back to Blossom… we are hoping to go for some training with my coach to rub off the rust and a few little shows over the next few weeks. Then if all goes to plan, we will go to Arena UK GP festival at the end of September. So please keep your fingers and hooves crossed that our luck has changed.
Thanks for reading and take care, 
Christie x '
If you liked reading this, you might also like to read Riding Tips