Working on Blossom's flatwork to improve her jumping technique…
 Well, I can't believe that it's October already! Goodbye summer, it's been a strange one this year that's for sure.
September has been a pretty hectic month. I've coached plenty of clinics and schooling liveries have come and gone. We welcomed a new exciting youngster and his owner to the team (we're hoping he will join Blossom and Doris at shows next year once we get him backed over winter)…… And my little boy started school! He was really excited to join his big sister and has enjoyed it so far. I'm still feeling pretty sad about though, I miss my little helper.
Blossom kicked off September with a 2nd place in the 1.05 at Harrogate riding centre. She was lovely and forward in her canter, we got all the turns in that I had planned but we just weren't quite quick enough to take the win. Although it was a good end to the show as I didn't have the best start when Doris dropped me in the collecting ring! But to be fair to Doris, she jumped a good round in the ring for four faults. The high and lows of horses eh!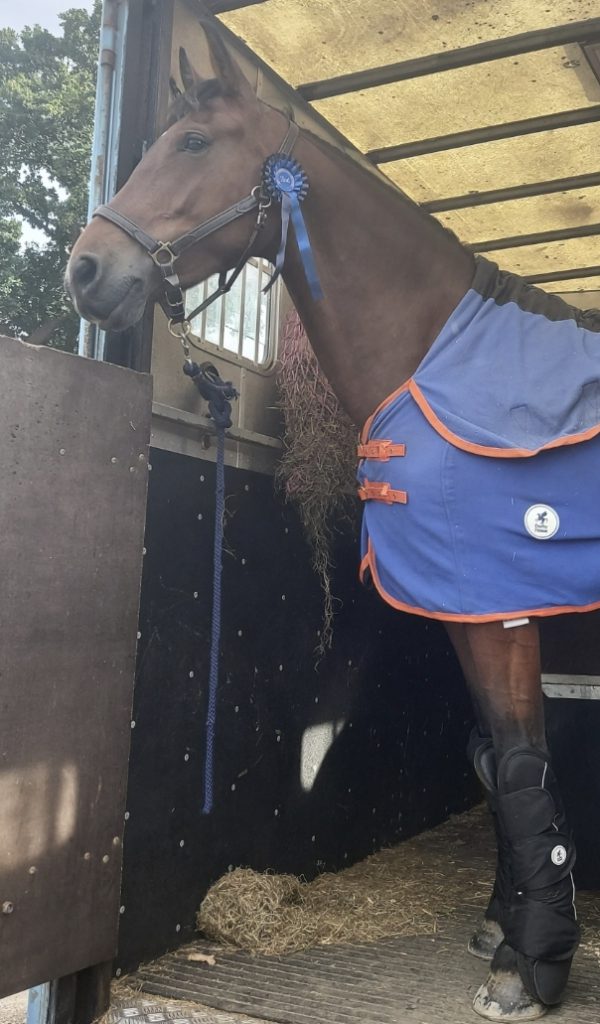 In Blossom's training, we have really focused a lot on her flatwork this month. Her natural way of going is very upright which makes her careful in front but means she can lack power from behind and become a bit too short in her canter stride. Plus, her tendency to be spooky creates tension which manifests in the shortening of her neck, this then affects her ability to come through from behind. We are always aiming to lengthen her neck and improve her thoroughness. When we get that hind leg under and pushing, plus her neck out, she feels like a proper little power house! We often use poles and cavalettis to help with it, but this month we're trying a new tactic which means I've really focused on the lateral work to help her suppleness, strength and rideability. I drafted in some help from local coaches for this. I can be guilty of trying too hard and going for too much angle in some of the lateral movements. Shoulder in and Traver have been our tools to try and improve her frame and engagement. Shoulder in – no problems, I use it a lot in our schooling to help with the spooking. Traver took some practice………ok, lots more practice but I think Blossom's almost got it. Now we're able to shift between the two and it really does improve her hind leg. Still a work in progress but will remain a key feature of our schooling.

Show number 2 of September was back to Harrogate riding centre where Blossom jumped well to be 2nd again – we just can't seem to catch 'em. Doris won her class, so Blossom pulled faces at her on the way home.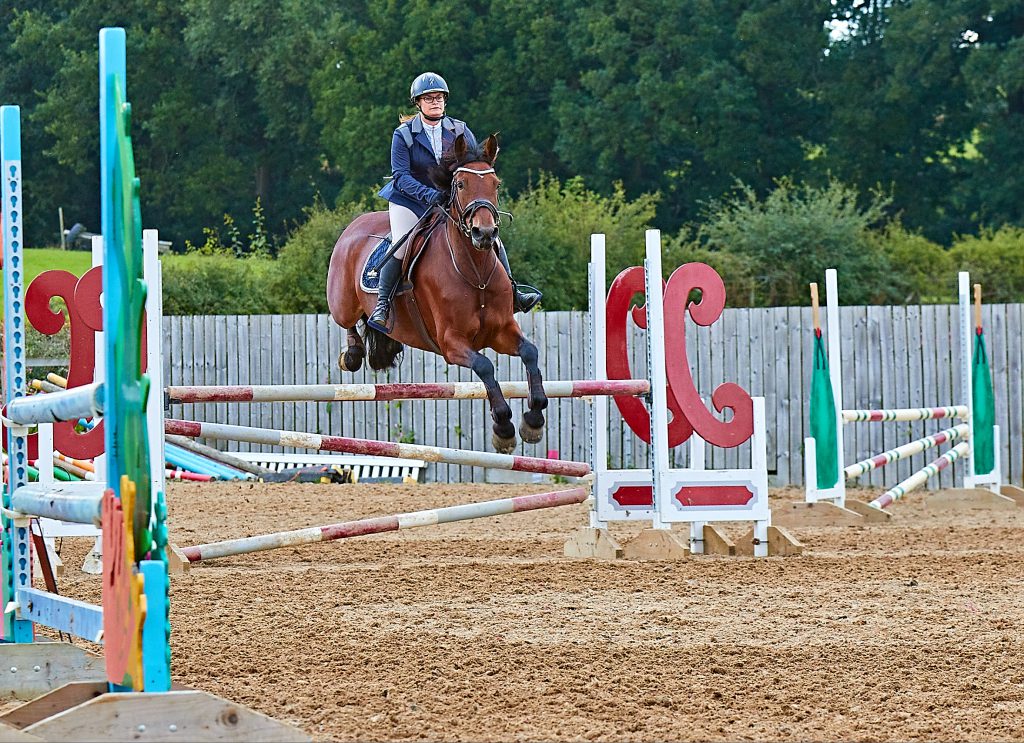 Mid-September I received a new Bridle for Blossom from Ride-away, the FaySport by ,PresTeq. It looked a little unusual but I was intrigued to test it out. I fitted it to Blossom following the guide, it looked much better on and appeared to be really comfortable for her. I schooled her in it that first day and she went beautifully, relaxed and stretching into the contact much sooner than she usually does. Was it the bridle or just a coincidence? I had, after all, done plenty of flat work that week before? A few weeks on she is still going better in the PresTeq bridle. I'm going to have to put her back into her old bridle for a comparison just to check, but let's just say I'm really impressed with it so far. I love the clips on it, they make it so quick to put on and take off. I also tried it on Doris and there was a noticeable improvement in the consistency of the contact. I just need to decide which sparkly PresTeq brow band to buy, Blossom is a princess after all! 
A track and trace message put a stop to a scheduled jump training session when the coach was instructed to self isolate for 7days. A show of the worrying times we find ourselves in.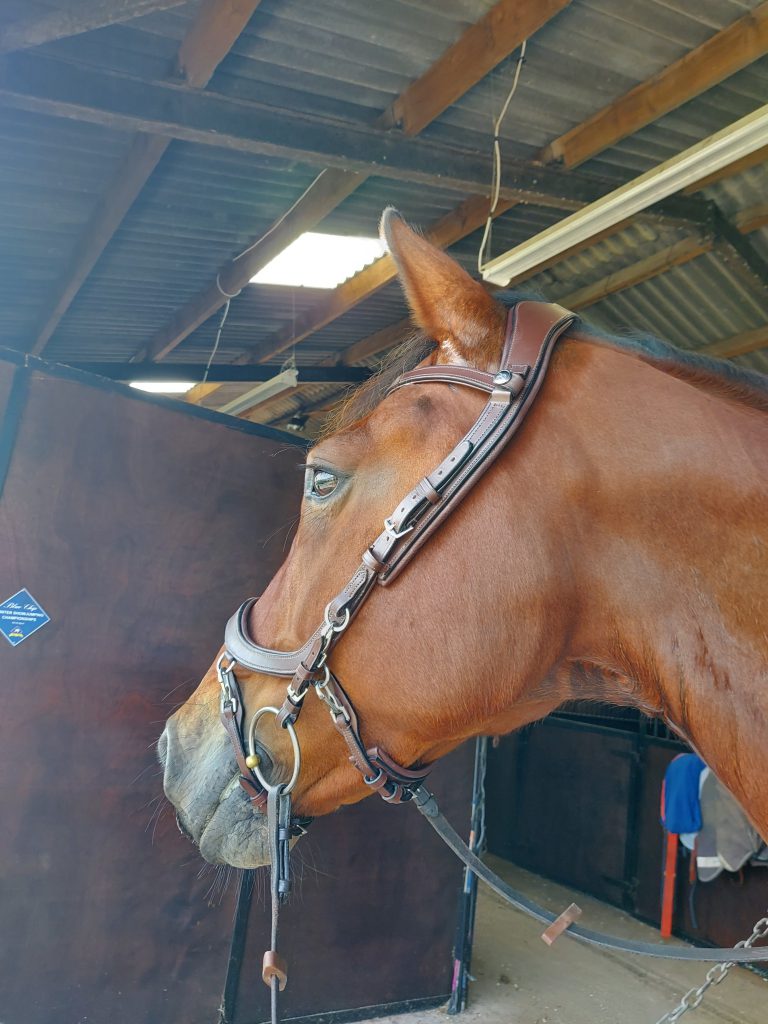 Blossom's 3rd and final competition of September was our first indoor show for a long time…….. it came as a bit of a shock after riding in huge outdoor arenas since lockdown! Blossom's eyeballs popped out of her head when we entered the ring, so much to look at in a small space. At that time I thought 'Maybe I should have chosen a larger indoor arena for our first indoor show? Anyway, it's too late now!'. It felt like all we did was 'turn jump, turn jump and squeeze through a narrow gap to jump and turn…', it zapped all the forward energy out of our canter and I just wasn't sharp enough in my riding, we came out on four faults in the jump off section, which was deserved. We thankfully did a second class which felt better (but still not as good as I would have liked) to finish 5th. So we have some homework to do!!
"Tomorrow's victory is today's practice"
Lastly, I just wanted to say that I take my hat off to the venues that are putting on these well-run competitions in such difficult times. I'm loving the collecting rings with limited numbers and stewards doing the fences, it feels like a vast improvement from the way they were before Covid.
Until the next instalment of the Blossom Diaries, goodbye and take care. 
Christie x "
If you missed the first instalment of the Blossom diaries, you can view it here.