This time on the Blossom Diaries, we see who Covid 19 is affecting everyone, including Blossom.
I've found it really hard to sit down and write this one. Why? This lockdown seems to have really affected me mentally, I think it's because I kept looking at 2021 like it was all going to be better as it's a 'new year', plus the weather has been pretty mean making it difficult to have any consistency with the horse's work. I feel like nothing exciting has happened, we haven't been anywhere and quite frankly I'm feeling fed up! I've also struggled with the decision whether or not, to be honest, or instead talk about training exercises and how we're keeping motivated at home, but I would feel like a fake if I did that. And what will people think of me just 'whinging on' when there are people a lot worse off?
But I reckon I can't be the only one who is flat and unmotivated then feeling guilty for feeling blue?
I posted on my personal Facebook page about my current mood and was surprised by just how many others we're feeling similar to me. I had some of my fabulous fellow coach's checking up on me and encouraging me to find ways to get out of this 'slump'. I feel really lucky to be part of a community of such brilliant people. I've been reminded that is ok for us to not be ok, life isn't perfect, we can't change what is happening BUT we can change how we look at things. So, I now aim to tell my husband something positive from my day instead of just the negatives, as I find it lifts my mood and makes me find the good bits too. Having 'Maserati' the youngster in to back has been perfect as each little 'first' we do feels like a mini win and perks me up. I'm thankful for the horses to get me out of bed every day and out in the fresh air come rain or shine.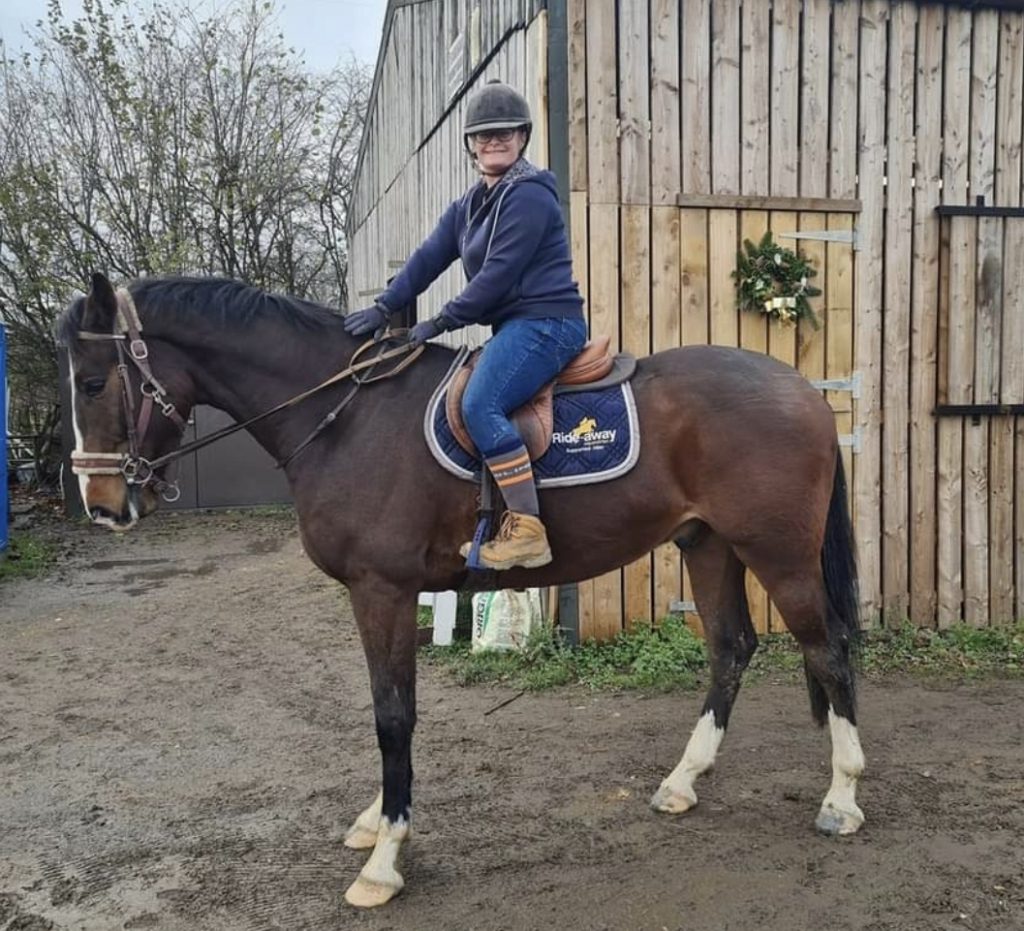 So, what's Blossom been up to?
In December lockdown 2 was lifted, we got one very much looked forward to show. I had to walk the course in my facemask, which was a challenge in itself as it kept steaming my glasses up so I couldn't see where I was going, thank goodness I didn't have to ride in one! Both Blossom and her pal Doris were VERY happy to be out, Blossom was throwing a few excited bucks in the collecting ring and being rather extravagant over the warm up fences and when doing flying changes. Doris was strong and couldn't wait to get to the jumps. I love it when the girls feel so well and keen to do the job. With COVID-19 restrictions it was pre-entry only so not knowing how many entries would be in each class I just entered them in one each so that I wasn't going to rushing to change horses. I didn't need to worry as the show was very well attended. Both girls jumped clears in their classes but we were just out of the money. They both could have done with doing another class as they came out still absolutely full of it! I was very pleased as the previous show didn't go to plan (see the previous Blossom Diaries).  With it looking likely that the country would be back in lockdown during January I made the decision the give the girls a few weeks off over Christmas. It's always a struggle juggling the yard, working the horses and the children during the Christmas break when I don't have any child care. So I thought I would take the pressure off and give the horses a mini holiday.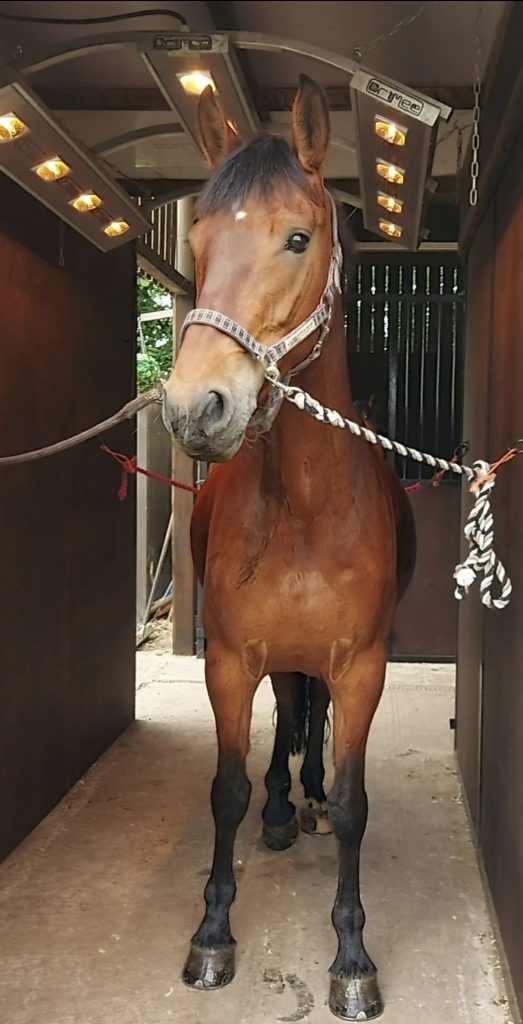 January came and as suspected the country is in lockdown until at least mid-February, meaning no Aintree prem at the end of the month and no Bluechip qualifiers in the foreseeable future. Will the Bluechip winter champs scheduled for April even be-able to run? If they run how will people qualify? With shows looking a way off, the decision was made for Doris to go back home. Blossom has mainly been hacking since her mini break and we plan the return to schooling during February in the hope that things will begin to lift in March. Blossoms nickname in the yard is 'princess', this is because she likes things her own way, won't drink from water buckets if they aren't scrubbed clean every day, will only eat the very best quality forage, keeps her bed clean by only poohing in one place and doesn't like being turned out if the weather is unpleasant. So she has been a bit grumpy this month as we have kept turning her out for the morning whether sunny or snowing sideways to make sure she at least gets a leg stretch for a few hours.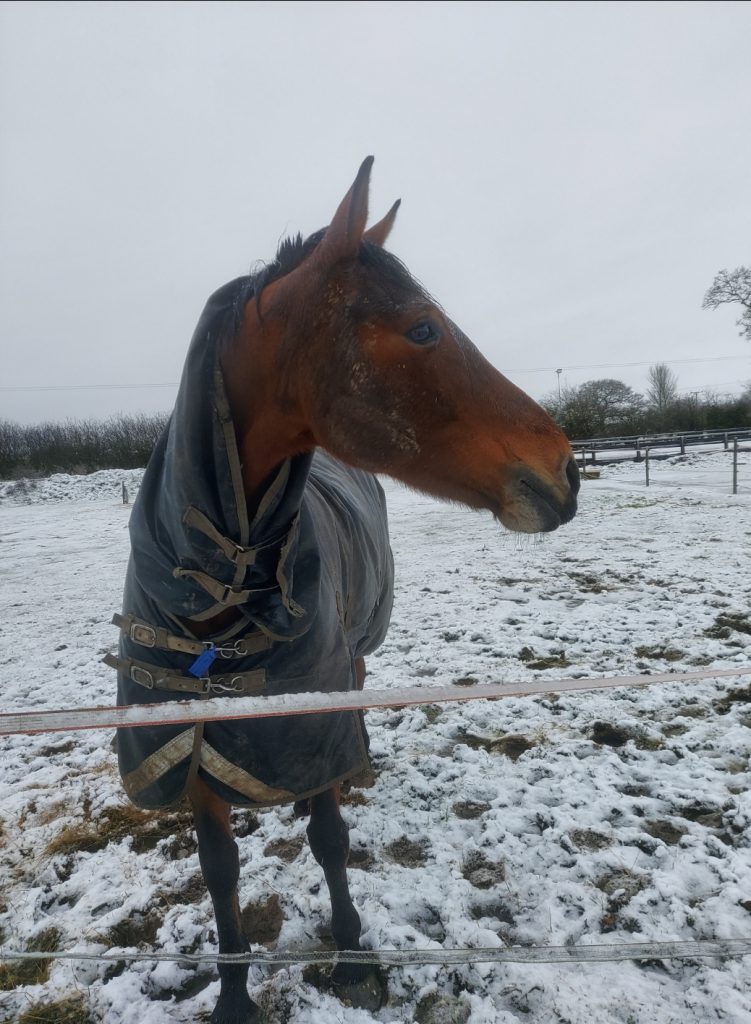 It isn't just me that's missing shows and going training, Blossom is too, she's definitely missing the extra simulation these trips away from the yard bring. She has worked out how to escape from her stable since lockdown 3 was imposed – she is such a rebel! We kept finding her wondering around the yard on late checks or the next morning. My husband put an extra fastener onto her door where she can't reach it or bounce it open by kicking the door like she did with the kick bolt, it's kept her in so far!
For Blossom's sake, I hope the rolling out of the vaccines will see lockdown ease enough for us to get out to shows or at least to my coach's for training, haha. On a serious note I do hope the sport will be able to resume soon for all our mental well-being, the horses and businesses its having a massive effect on.
I hope you're all keeping safe and well.
Christie x 
If you missed the last Blossom Diaries? Catch up HERE