Finally, we say goodbye to winter. That means goodbye cold toes, frozen water buckets and dark nights. It's music to any equestrian's ears! But as much as we love the warmer seasons, summer brings its own problems –  the biggest one being flies. 
Why does your horse need a fly rug? 
Some might argue that back in the day, horses never had fly rugs, so why would they need them now? Well, times have moved on. You only have to think about how far the humble turnout rug has come in making life as a horse owner so much easier. Flies are an unwanted pest for any equine; without the appropriate protection, flies can seriously irritate your horse. In trying to get away from them, he is likely to work himself up which could even lead to him overheating in his field. 
Then there's the issue of Sweet Itch – an allergic reaction to the saliva in mosquito and fly bites that causes itching, inflammation and hair loss. A good fly rug can help to protect your horse from these issues during spring and summer. There are lots of different horse rugs on the market, so here's our 'Best 6' fly rugs to help you to choose:
Derby House Elite Fly Stopper – RRP £49.99
The Elite Fly Stopper is one of our favourite rugs this summer. It offers amazing value for money at just £54.99, but also exceptional protection against flies. It's made from 300 denier interlocking mesh, making it the ideal fly rug for horses who suffer from Sweet Itch. Those pesky mosquitoes are NOT getting in, and that's thanks to its full belly wrap. A great thing about this rug is the multiple gussets throughout, your horse's movement and comfort is in no way impeded.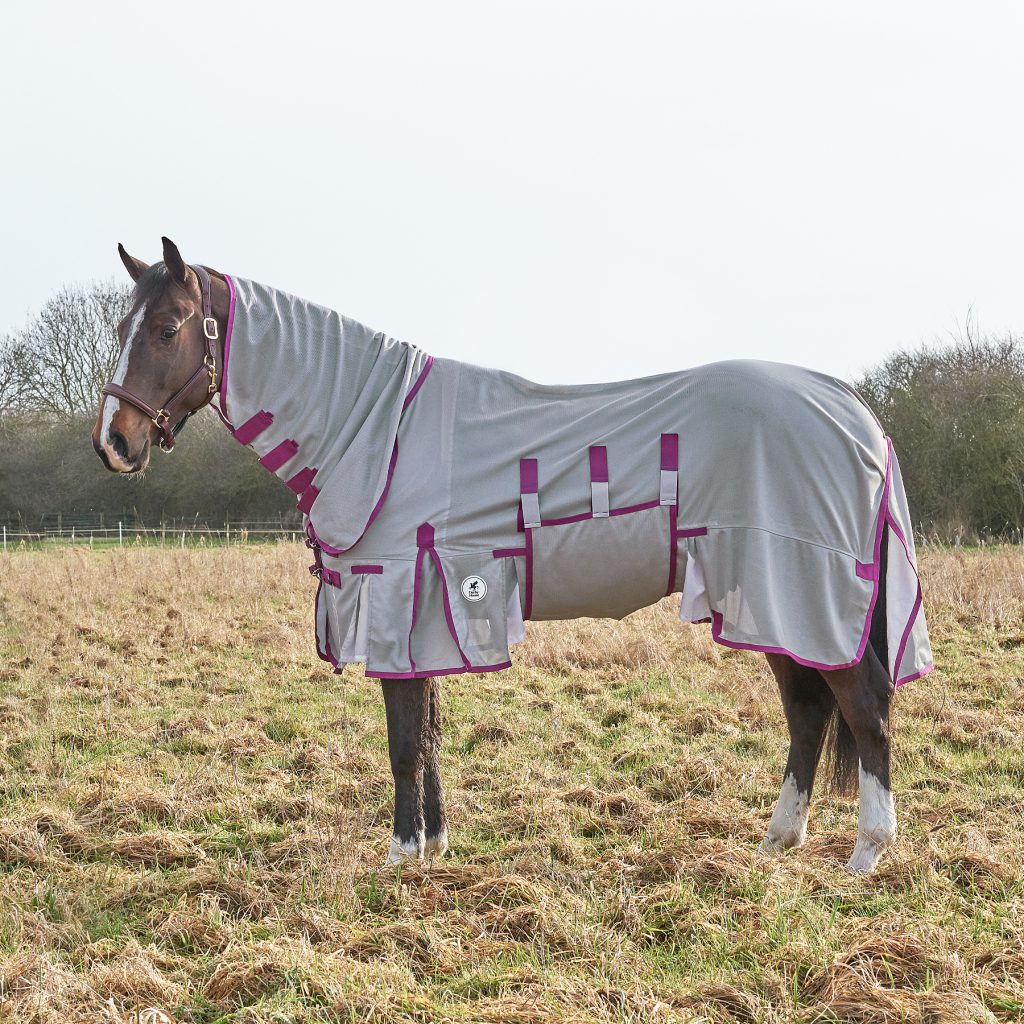 2. Weatherbeeta ComFiTec 600D Mesh Combo Fly Rug – RRP £92.79
Next on the list, Weatherbeeta. Let's be honest, wherever there's a list of top rated horse rugs, Weatherbeeta is always up there. We love the versatility of this rug. It tackles the flies but also protects from unexpected showers too. The upper 600 Denier waterproof panel that runs along the horse's back keeps him protected against rain, while the mesh lower both allows airflow through on warm days, as well as offering protection against flies.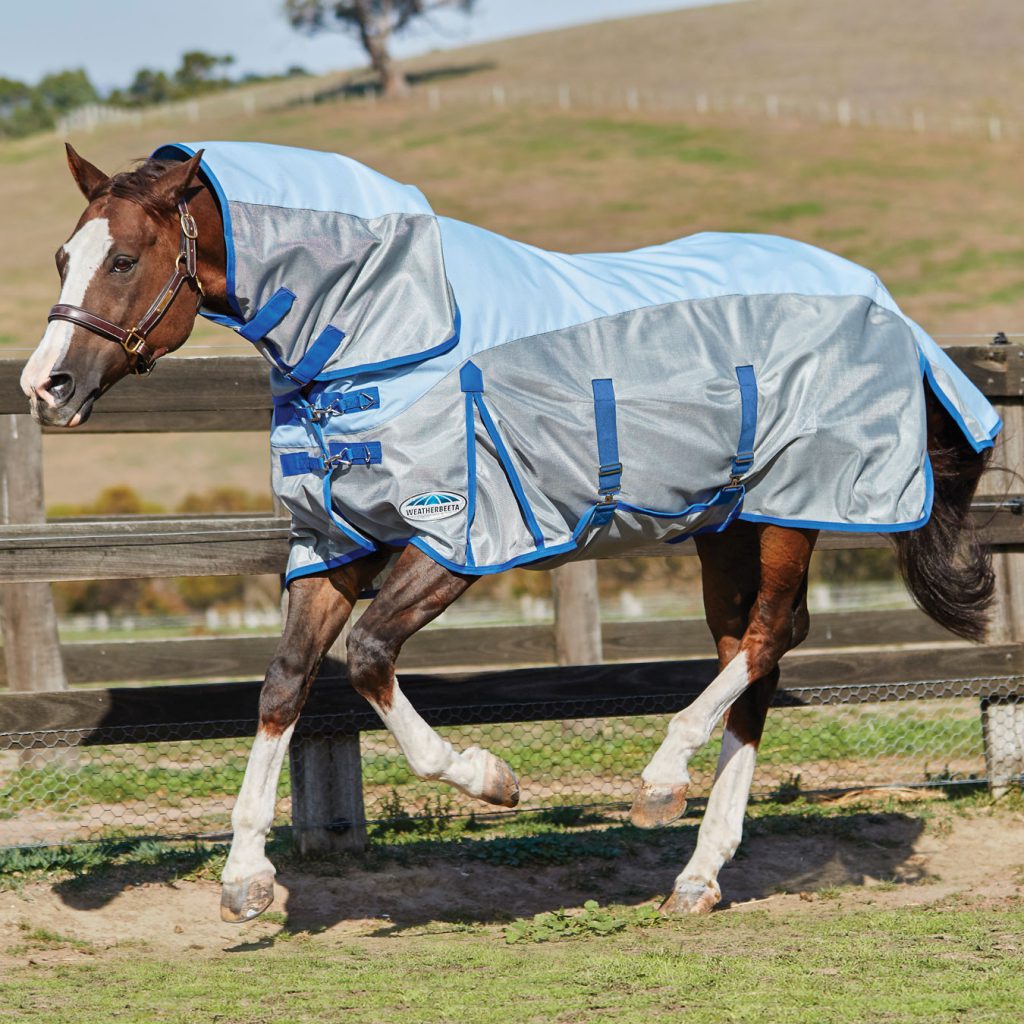 3. StormX Original Zebra Print Fly Rug – RRP £39.99
Take a walk on the wild side. Not only does the StowmX Fly Rug look super cute but this rug has been specifically designed to keep your horse protected from biting insects. The black and white stripes confuse insects so they stay away, plus the breathable fabric ensures your horse is cool even on the hottest days.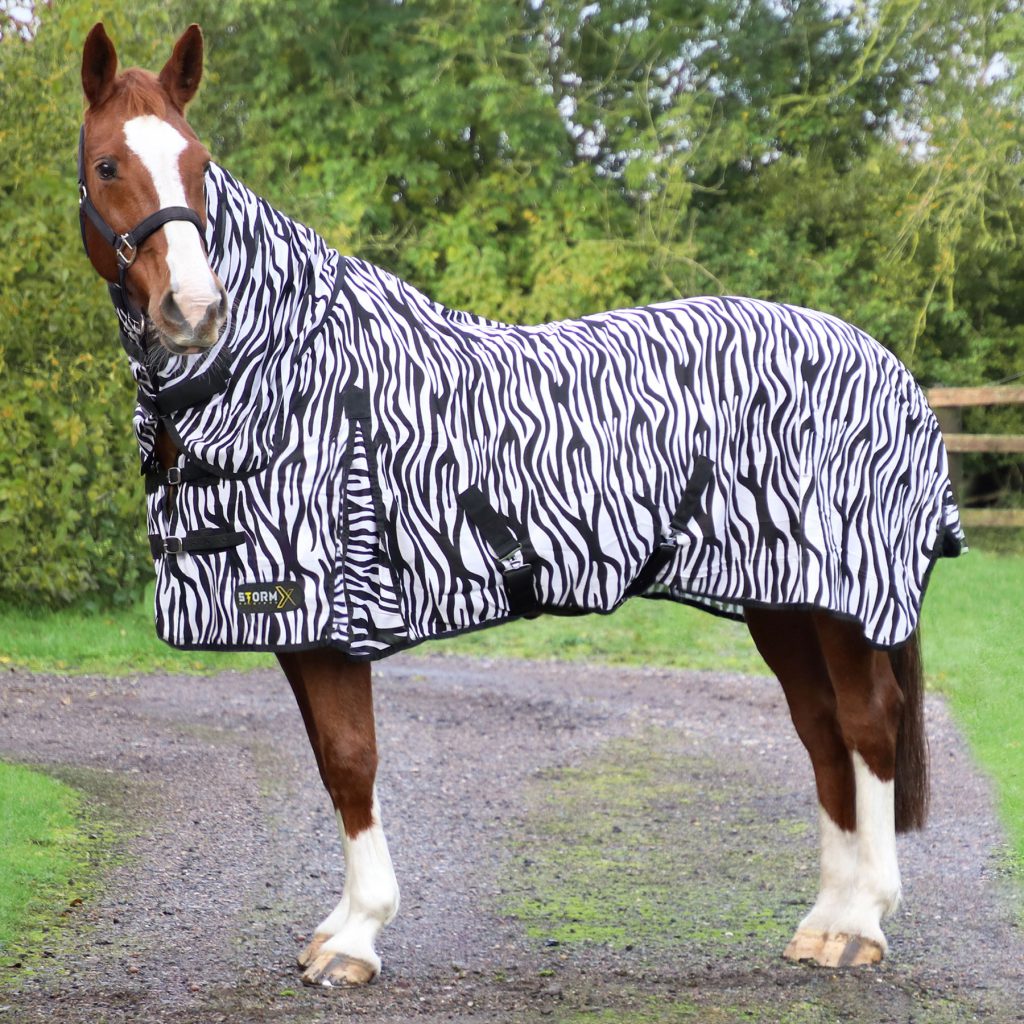 4. Shires Tempest Plus Sweet Itch Combo Fly Rug – RRP £59.99
Sweet itch is ever equestrians nightmare so if your horse suffers from sweet itch, then this is the rug for you. The strong but breathable mesh provides a highly effective barrier from fly irritation in turn preventing sweet itch. The features don't stop there, this rug also offers up to 90% protection from the suns harmful UV rays!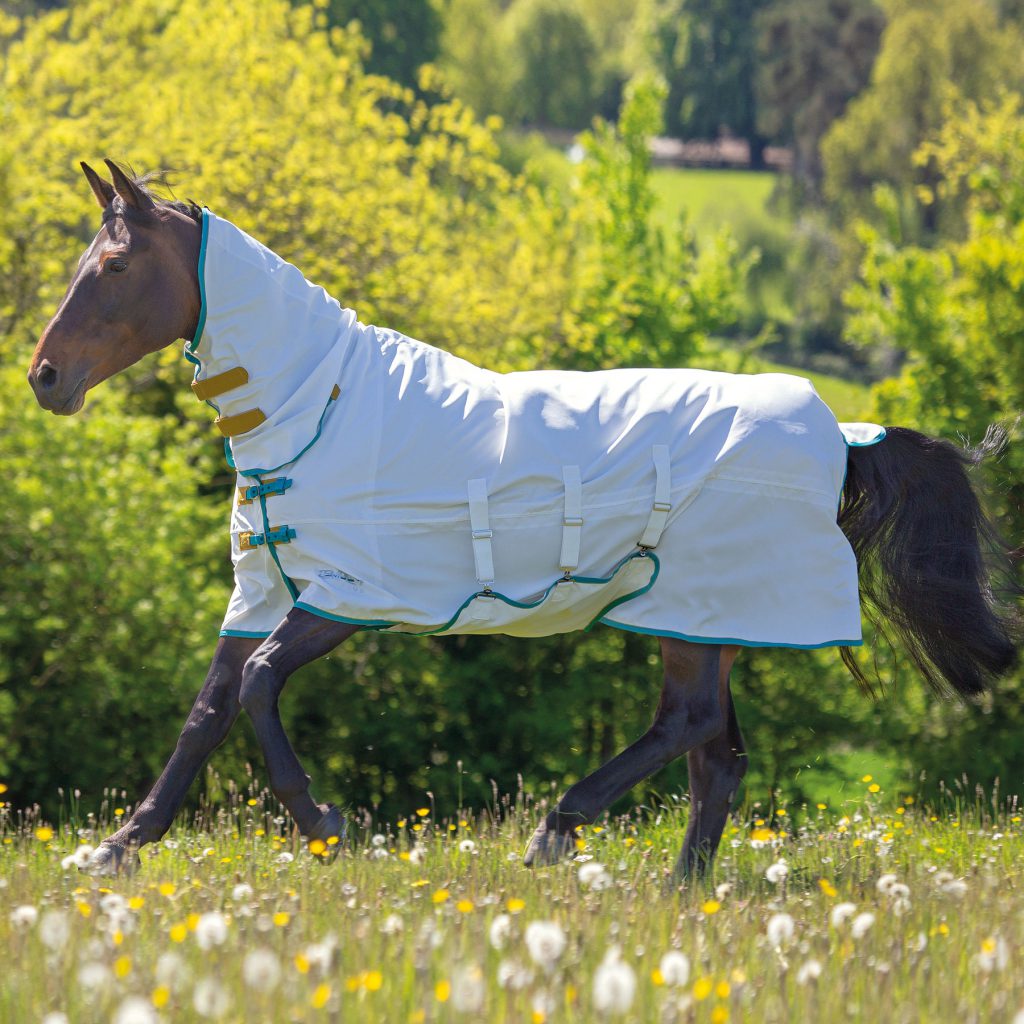 5. Weatherbeeta ComFiTec Essential Mesh II Combo Neck Fly Rug – RRP £64.99
If your horse struggles with the heat but needs that protection, the ComFiTec Essential Fly rug is a perfect choice. The lightweight rug is extremely breathable but still offers a protective barrier from those biting bugs. The great thing about this rug is that it also protects against harmful UV rays; just like human skin, horses can be susceptible to sunburn, so this extra layer of protection is great for sensitive horses with a fair or fine coat. We mustn't forget it's got giraffes on it!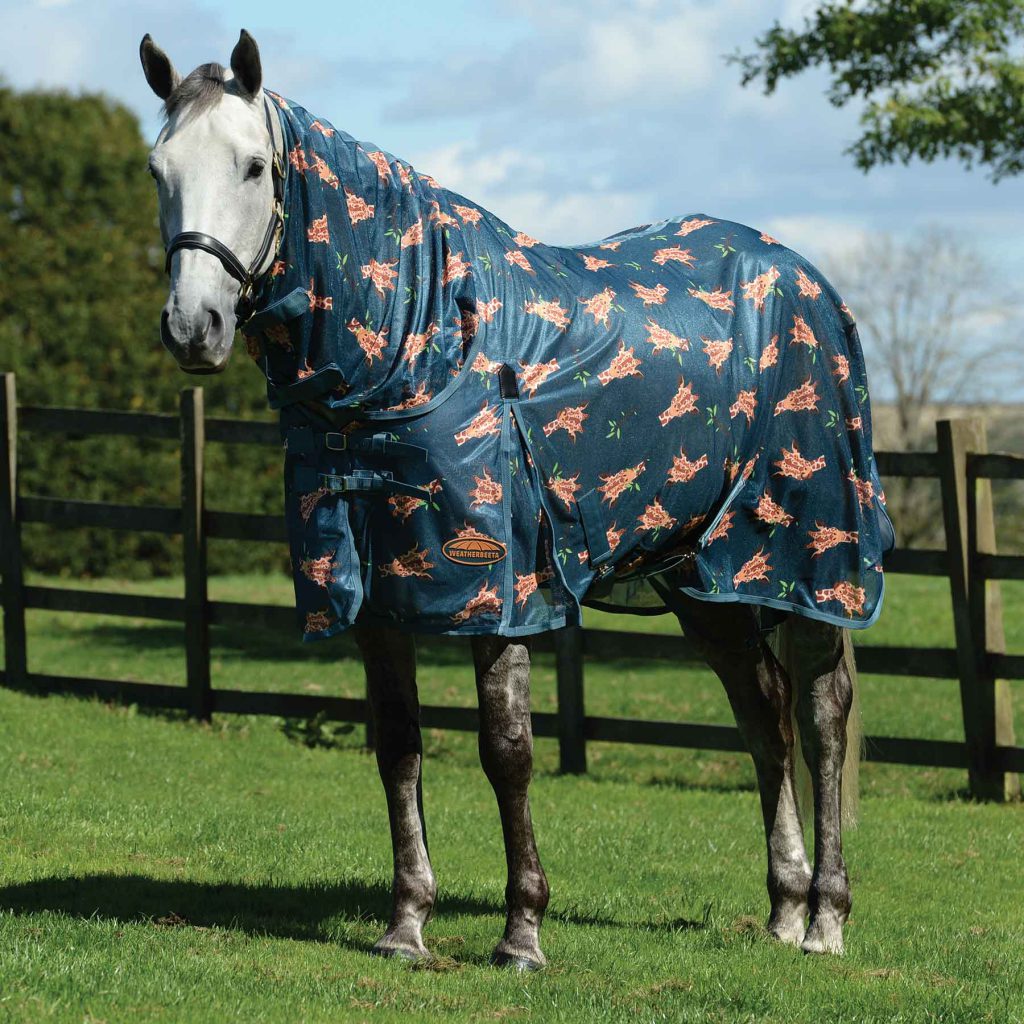 6. Derby House Classic Fly Rug – RRP £34.99
Last but by no means least. This Classic fly rug is the perfect choice for anyone on a more modest budget, or if your horse just needs a general level of protection against flies. This no frills fly rug offers good protection against flies and insects with its mesh design and full belly wrap. The mesh on this fly rug is very lightweight, making it the perfect choice for horses who tend to overheat in summer. You get a whole lot of bang for not a lot of bucks.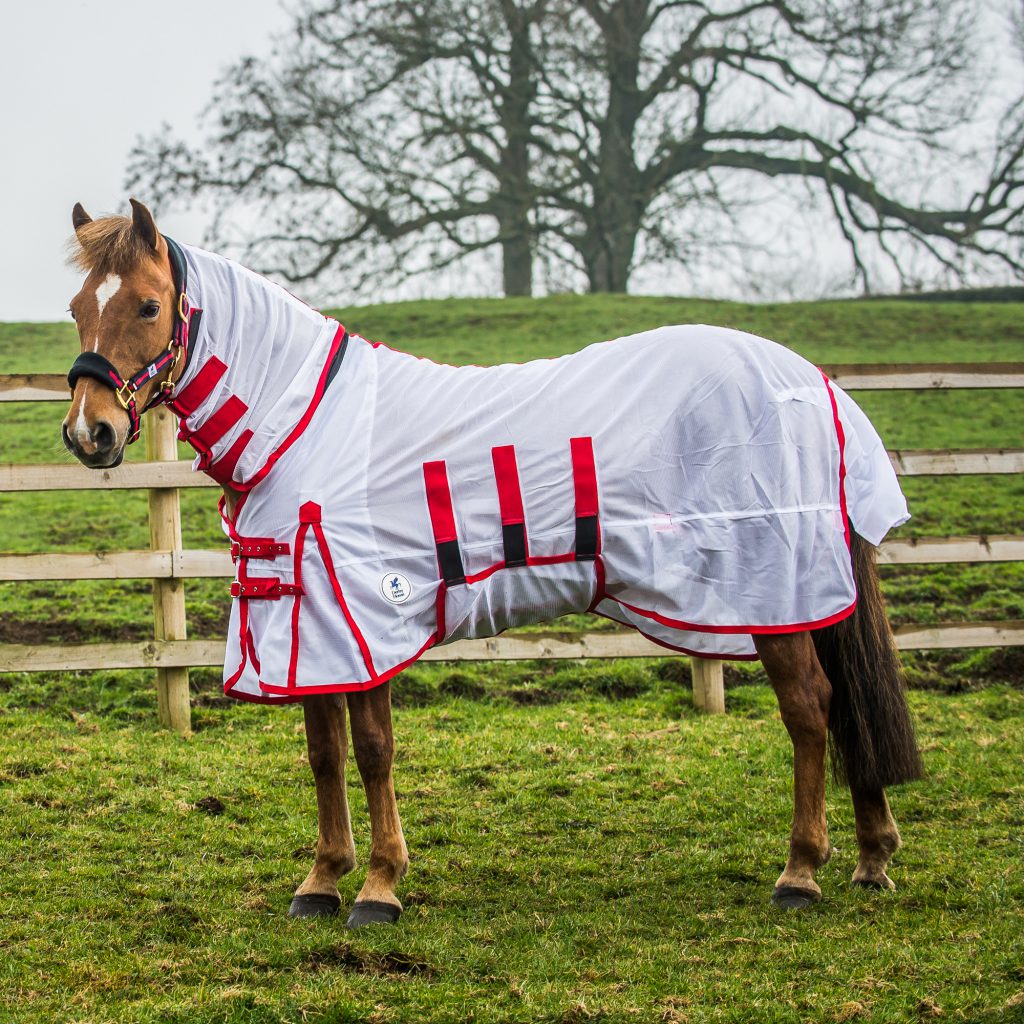 Shop all fly rugs here
If you enjoyed this blog, you might like to know more about the Amigo AmECO 12 Plus Horse Rug