Could your Horse benefit from the Massage Mitt Hotspot?
There are two simple ways to help support healthy muscle function in our horse – Massage and Heat. Our hard-working horses get a lot of pressure put onto their muscles through exercise, why not treat them to a relaxing heat and massage session?
The Massage Mitt Hotspot is an extremely versatile product allowing you to choose the setting you or your horse prefers the most. It has 2 types of massage (cyclical or continuous), each with 3 intensities, plus the choice of adding heat or not gives you 13 different settings! The Hotspot Massage Mitt has been tested and shown to increase the skin temperature of the horse by an average of 8.7°C.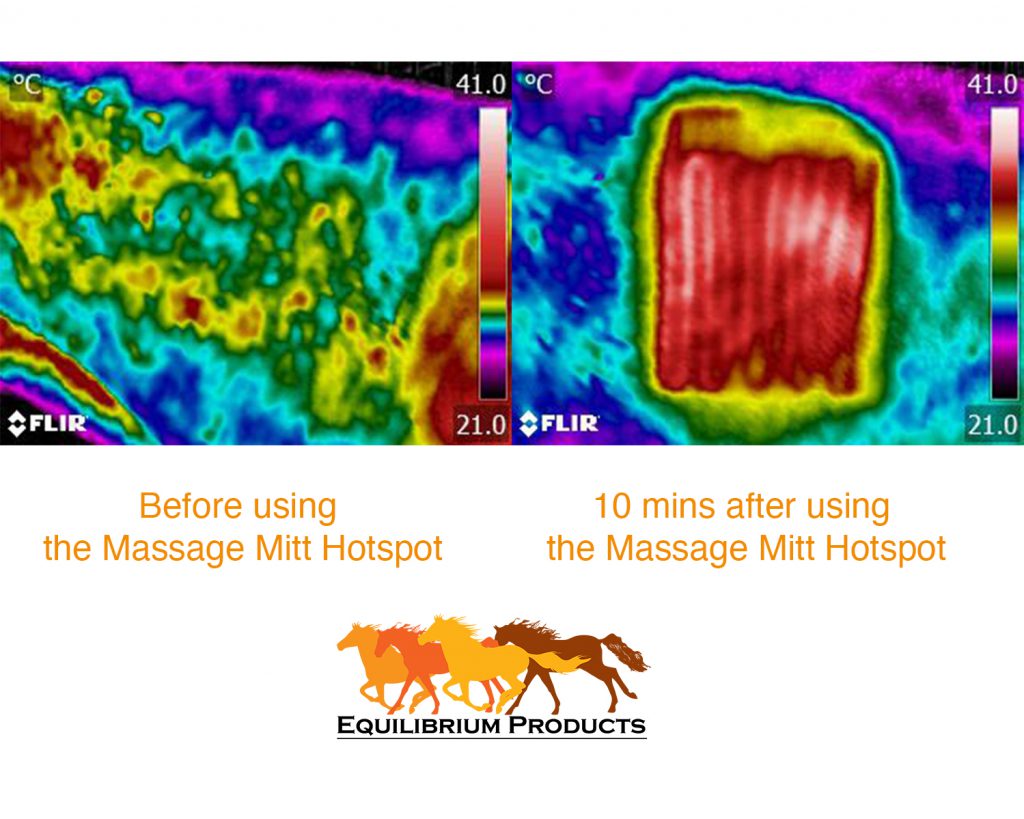 This can help to:
Support healthy muscles and soft tissue
Warm up muscles or joints before exercise
Maintain lymphatic function
Therefore, this product is ideal for:
Older horses
Horses that are slow to warm up
Horses in work
Young horses who are learning new things
Horses undergoing retraining
Those returning to work after a period of rest
For any horse or pony to enjoy as a reward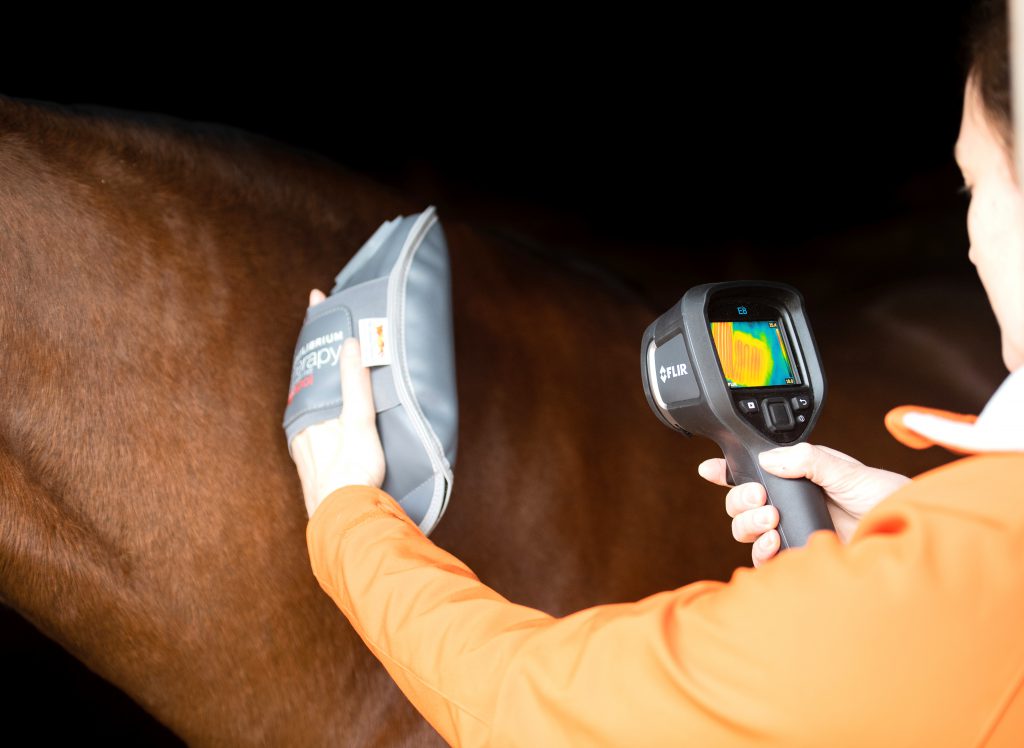 The Massage Mitt Hotspot is the perfect way to deliver heat to the horse that is repeatable and safe to use. The Hotspot is set to reach the ideal temperature but is also fitted with a safety cut off to prevent overheating. Traditionally, horse owners would use a hot water bottle or a wheat bag to deliver heat to the horse, however, the Massage Mitt Hotspot is now a much more convenient and reliable option.
| | |
| --- | --- |
| Negatives of Hot Water Bottleor Wheat Bag | Positives of Massage Mitt Hotspot |
| Unpredictable temperatures | Set to a specific target temperature with a cut off to prevent overheating |
| Starts very hot – can be a shock to the skin | Starts at ambient temperature and gradually increases to a pre-determined maximum temperature |
| Starts to cool down quickly | Set to maintain the correct temperature, can be switched back on after 10 minutes (only 2 x 10minute sessions to be used on one localised area) |
| A lot of heat lost to the atmosphere | Insulated behind the heat element to prevent heat travelling back towards the owners hand and out into the atmosphere |
| Need access to hot water or microwave | Battery operated to deliver 10 x 10 minute heat sessions |
| Covers need to be washed – not straightforward with a wheat bag | Easy to wipe clean and keep sanitary |
Make sure you don't miss out either! Use the Massage Mitt Hotspot on yourself at the end of a long day. It's the perfect size to use on your lower back, neck or shoulders – all areas that riders, or anyone that works with horses, will probably have some minor niggles from time to time!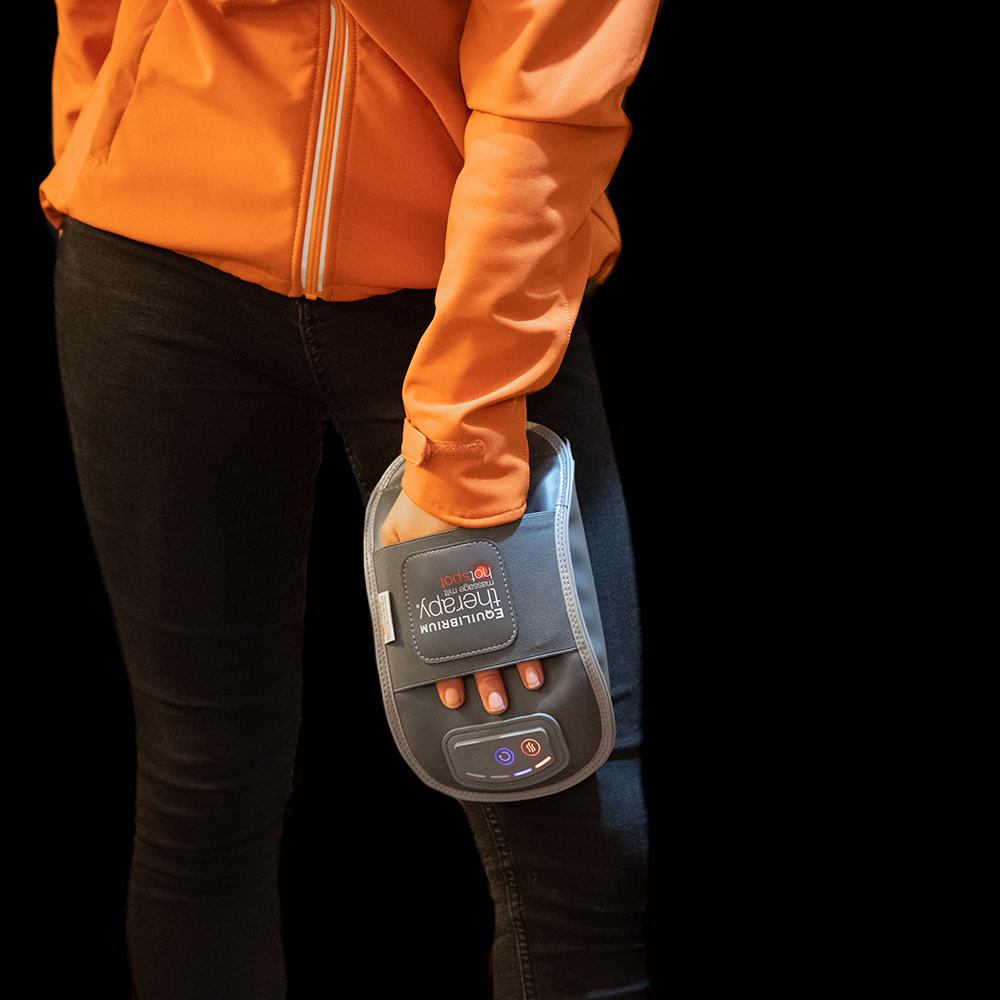 If you enjoyed reading this, you may also like A Riders Diet