As horse owners, we focus a huge amount of time and money into ensuring our horses are comfortable and happy. Whether you have a horse in heavy work or pony enjoying retirement in the field, knocks, bumps and strains can happen but now you can offer effective healing to your horse from the comfort of their stable. We've turned to the experts at Equilibrium Products who have got some helpful tips which you can try at home.
Why is massage so beneficial for your horse?
Benefits of Horse Massage
– Promotes feelings of happiness (via the release of the hormone, endorphin)
– Increases blood circulation
– Lowers fluid retention
– Improves range of motion
– Bond with your horse
– Get to know your horse, notice any changes or lumps and bumps
– Help with coat changes and improve shine
– Enhance muscle tone
Types of Horse Massage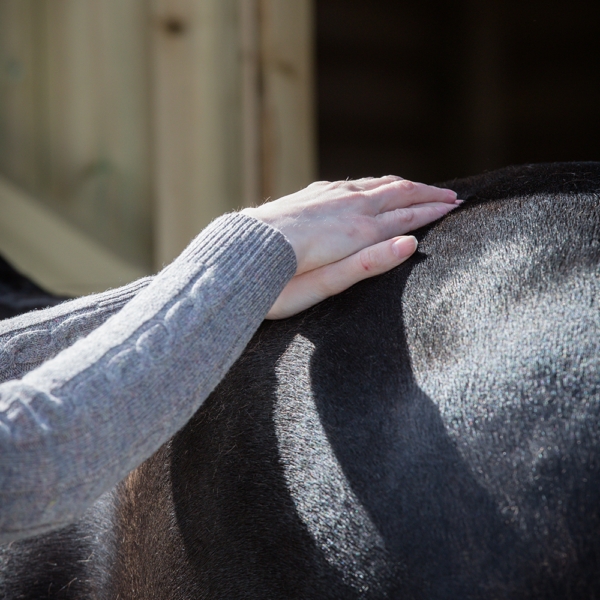 The 2 easiest types of massage that you could try with your horse are the following:
Effleurage – Series of stroking movements which always make up the beginning and end of a massage session. At the beginning it prepares the tissue for the massage to follow by 'waking up' the nerve endings and increasing blood flow, at the end, it helps to remove any toxins released by the massage. This should be done with a flat hand against the horse in the direction of the coat. Start at the head and work your way slowly along the whole length of your horse. Follow on to:
Petrissage – kneading motion that will make up the main bulk of the massage. Small circular movements can be performed using the heal of the hand or fingertips on more sensitive areas. If you suffer from stiffness in the hands or cramping then the Equilibrium Massage Mitt can make it much easier on you. Avoid any bony areas such as the point of shoulder, the dorsal processes across the wither and point of hip. Always follow petrissage with effleurage as mentioned above.
Massage Pads for Horses
The Equilibrium Therapy Massage Pad is designed for ease. It covers the horse's back from withers to hind quarters and is soft and flexible so it sits comfortably on the back of a wide range of horses. The pad runs for 30 mins and has 3 different settings, low (cool down after exercise), medium (warm up prior to exercise) and high (to help alleviate back problems).
Pads are ideal for use:
For horses on box rest
After exercise to help with toxin removal
Before exercise as part of warm up
At a show to help recover from travelling
On your horse's day off as part of a maintenance programme
To help alleviate back problems
Anytime as a reward or to help with bonding
You can view the full Equilibrium Products range here. If you have any questions please feel free to leave a comment below.