When you're flying round a cross country course, or spectating from the side lines, you probably don't think about the process behind the course design and build, and just how important it is that it's right. This week we caught up with the team at Bishop Burton College just before their two day event, so that we could take a look at the course, and also catch up with BE Gold Course Builder and Designer and owner of Norton Disney – Joe Weller to get an insight into what goes on behind the scenes.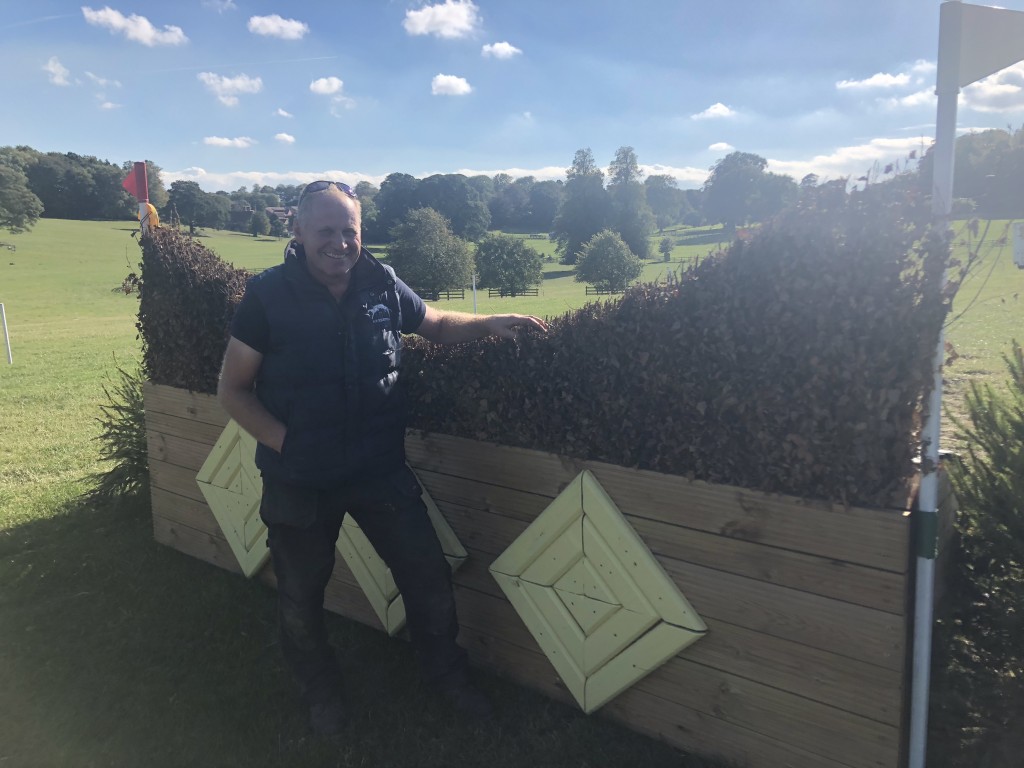 When it comes to course designing, where do you start?
The first and foremost we've got to look at the way the land rolls, the way it works. If I was doing it from scratch, for example, I would pick out the most interesting aspects of the course and see how we can make use of it – we'd look for our main features, our water complex area, our banks, our drops etc and work from there. We then would work to our levels, so whatever level we have be it from 80cm, 90cm, 100cm and all the way through to advanced. We would make sure we can fit all of that in, we've got the right distance and we can include as many efforts that we can.
How did you start in this career? Does it require any training?
Very good question, I started many, many years ago when I was in the army, I did a lot for the House of Cavalry and met with Captain Mark Phillips – I built Tidworth with him for 2 or 3 years and I just took it on from there.  I was very lucky to be part of the team at Burghley where I worked with other amazing course builders, we were able to learn from each other and bounce ideas off one another. I was very lucky to have been able to do that.
What's your favourite course that you've been involved in? 
I love this! (Bishop Burton College Course) Because it's got so much to offer and because the terrain is just second to none. You're almost stuck for choice to know what to do with it. There's a great team here, everyone knows what everyone else is doing – it's a good feel. I have also run my own horse trials (Norton Disney) so that is definitely high up on the favourites list, I loved it and put my heart and soul into it. Burghley is obviously another – the best 4 star in the world without question! I've done many others, Houghton Hall, Burnham Market was great – they all have their own character. The actual type of competition it is brings that to the table. The Pony Europeans we had here in the Summer was phenomenal, absolutely phenomenal competition, really great fun, amazing competitive spirit, it was just fantastic. We were right on the knife edge right until the end which is what makes it incredible!
Who's the first to ride the course?
This is a question that lots of people ask! It's that well checked, looked over and thought about by lots of different people that we go straight into the competition. Whatever class may come first, we're all very happy for them to ride it. We have stewards, technical advisors, ourselves (the course builders), greatly experienced eyes have to look at the course and British Eventing has a very strict regime of safety and procedures before any event can commence. Everything is checked twice by our technical advisor prior to running and we have a final check on the morning of the day before – he'll walk around with a steward and everything is then double checked. Any points they pick up on we rectify before it can be signed off ahead of people walking the course at 2 o'clock. By the time it comes to the competition we're very happy to go straight into it.
How do you measure a fence?
Well you don't measure a fence at the fence, you measure it from the point that the horse would take off, of course if you're going downhill the fence can look enormous because where they take off from is a lot smaller, and likewise when you're going uphill they can look tiny because where you're taking off from is much higher – it's getting all of those sorts of things right. The distance between fences needs to be averaged out, where you put your combinations, all of that sort of thing. The lower end courses up to novice only have 25 jumping efforts, the novice course has 28 and then we go up to 32 for intermediate and more for advanced. We then have different numbers of fences for the 3-day events, CCI's, CIC's etc. So it does vary, and a lot of people don't understand about how many efforts there are –  we have a very strict set of guidelines to say you can't include this at this level and you can include that at that level, there are many variations. It's all available for people to find out if they really want to look into the course building side.
You can check out some of the fences here