Competition season is upon us on and as we prepare our horses, we should be preparing our outfits too. Ariat's new collection of competition wear gives you top 'tech' just when you need it. Ranging from show jackets and shirts, to breeches and boots, each piece has been carefully designed to Ariat's high standards to offer you absolute performance in the saddle.
With varying price tags, we thought we'd give you a technical breakdown on some key pieces, and let you know exactly what you're getting for your money.
Competition Jackets
This season Ariat are offering two competition jackets, each stunning, but also offering different technical features.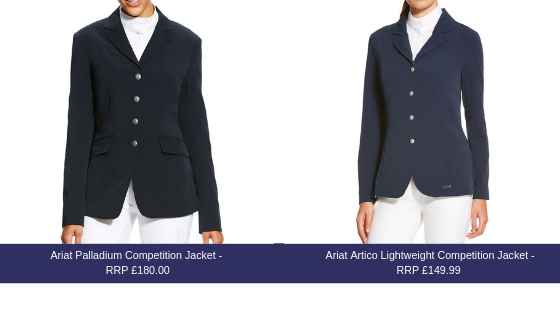 Palladium Vs Artico.
The Palladium is one of Ariat's most premium competition jackets in the collection. The fabric offers all day performance with moisture wicking properties and the perfect amount of flex for mobility. It features a double vent and button detail for a classic look. This jacket performs well for a wide range of riders. Not only does it look great, it's practical too – this jacket is machine washable.
The Artico comes in at around £30 less than the Palladium and is made from a lighter weight mesh fabric for ultimate breathability and flexibility. Subtle zippered hand pockets and a concealed zip under the button placket gives this jacket a clean and simple look.
Competition Shirts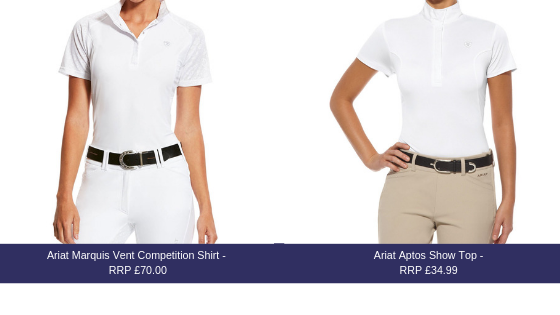 Marquis Vs Aptos.
The Marquis is packed with technical features that help you to perform at your absolute best. As well as mesh panels and moisture wicking premium tek knit fabric, this shirt also features a special technology which actively cools as you ride. With the creation of this shirt comes outstanding attention to detail, with a nifty magnetic close show collar. Look closer at the cooling mesh panels and you'll see that they're designed in a floral tech fabric, giving this shirt an incredibly premium look and feel.
The Aptos has been created with value for money in mind. At just £34.99 this show shirt is packed with quality features that you'd expect from Ariat. Moisture wicking, built in stretch fabric offers comfort both in and out of the saddle. Its classic design ensures a sharp look to your competition attire.
Riding Breeches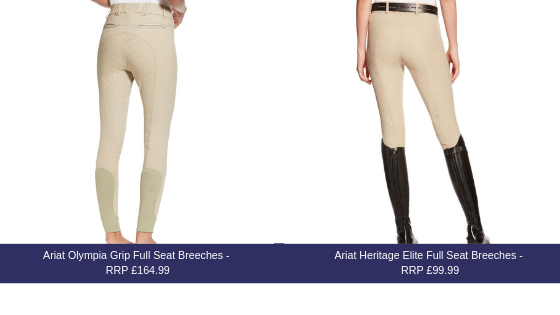 Olympia Vs Heritage.
The Olympia has been crafted to meet the needs of the most elite equestrian riders, packed with advanced technology to offer unrivalled performance in the saddle. Made from a premium four way stretch nylon/cotton mix fabric which contains technology that not only provides support for core muscles, but also offers custom support to the calf and ankle to alleviate pressure points. Complete with a silicon seat for extra stability.
The Heritage Elite is made from a performance four way stretch fabric which is coated to repel stains. Mesh panels at the calf offer breathability and comfort while a synthetic suede seat provides extra stability in the saddle as well as giving a traditional look.
For unrivalled performance this competition season, choose Ariat. You can browse the full collection here.