Follow sponsored rider Christie and Blossom to find out what they've been up to.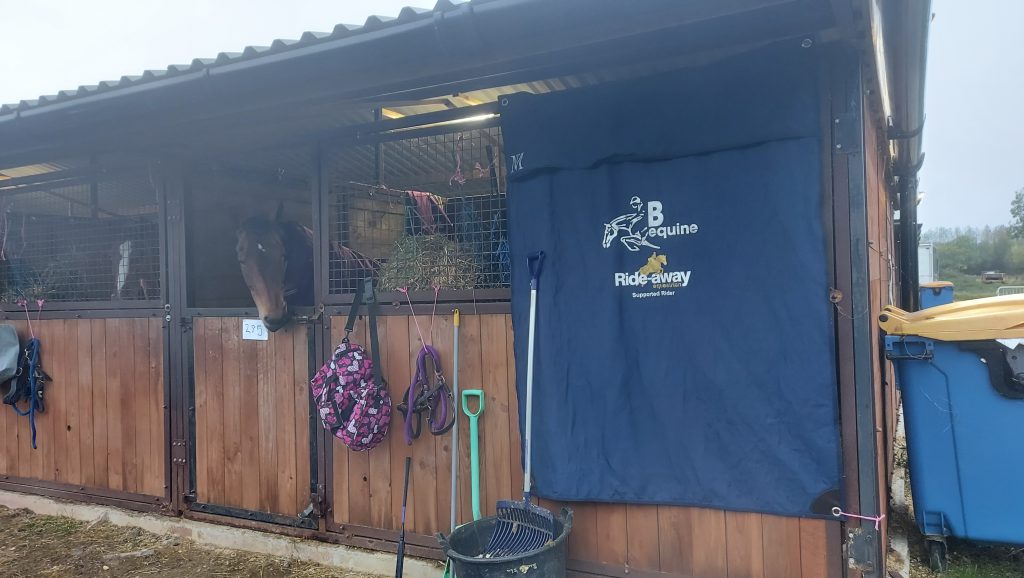 In the last blog Blossom and I had had success at a few shows and good training sessions in preparation for our first stay away show in a long time! Arena UK's Halloween show….
The stables were booked and the prep had been done, we just had to get there and jump! Blossom and I were entered into classes on Friday, Saturday and Sunday. Due to the child care demands, we couldn't travel down on the Thursday afternoon so we planned to set off very very early on Friday morning, *yawn. At 5.30am we set off in convoy; Mr Jeffrey drove the wagon with the horses and equipment in and me in the in-law's camper. It will be much easier once my wagon is finished! But at the moment just the horse area is complete and there's absolutely nothing in the living area.
We arrived in good time to have a well-deserved cuppa and walk the course for Blossoms first class. The arena looked amazing and super spooky with all the Halloween jumps, decorations and displays.
We had pre-planned to jump Blossom from the wagon and sort the stables out after we had finished competing to save any rushing about.
Blossom jumped well, with a four-fault round and a slow double clear to finish just outside the top ten, sack the jockey, I could have had a cup of tea on the way round!
The last-minute decision to take one of the schooling liveries meant I couldn't get entries for the first day's classes but I could get her in classes on Saturday and Sunday. I had already booked the second stable so I thought I may as well use it. I just worked her in the outdoor collecting ring that first day so that she had been exercised in preparation for the weekend ahead.
We then got both girls bedded down and settled into their stables, which I thought were great. We've had far worse stables at stay over shows!
Day two wasn't great!! I had entered both girls in just one class each…..
I think the staying in new stables, the noisy small collecting ring and spooky arena blew the poor schooling liveries brain. I couldn't get her to focus on me and go to the top end of the arena where the seating was and sod's law where the first fence also was! 45 seconds later the bell rang and we were eliminated. Blossom was next and the positioning of the fences and scary graveyard display caught us out. The life-size moving ghoul whose eyes flashed, body shook and made noises when you passed him well and truly spooked poor Blossom. We ended up eliminated as technically had two stops. I really wanted to get both mares back in the ring again, but the show was that busy that they couldn't accept on the day entries, I kicked myself that I had only pre-entered the one class each for that day but there wasn't anything I could do about it. I made sure I got them both in two classes each for the last day. My coach lent me some silent ears to try on P in the hope they would help calm and focus her for the next day.
On the morning of the third and final day, I walked the course and thought 'oh no, the first fence is at the top of the arena again right up against the wall', this was exactly where Little P was too frightened to go the previous day.  I managed to turn and trot into the first fence and once she started jumping, she started to focus, it was by no means a neat round, we had fences and circle but we made progress on the previous day. The second class for little P had an easier first fence, same tactic, just get her to the first fence then ride every inch of that course. A couple of fences down but she got between all the wings, it was definitely an educational show for that little horse. And a lot of calories burnt for me, bonus, haha.
On that third day, Blossom was just fantastic, she jumped really well and I took the handbrake off! We finished 5th in a busy class and I couldn't have been more pleased. Mr Jeffrey and I decided to pull her out of her second class as she had done everything I had asked and she had had a tiring weekend. A rosette, some pennies a happy owner, rider and horse was a great ending to what had been a mixed show.
Big thank you to my coach Sarah Tubbs for helping in the collecting ring, lending me the ears for P and being great company. And to my good friend Mr Jeffrey for driving, being lovely company and for trusting me with his lovely horse.
Not long after the show, I found out I had been selected for the national development programme for coaching excellence! I have completed the first few days and it's really blown my mind, to be honest. I feel so lucky to be a part of such an awesome programme with a group of amazing equestrian coaches. I feel like an imposter, I mean, how did I get in? Did they mix me up with someone? Shh, don't tell them though, I'm loving it too much!
I've been without a wagon since November and will be until the end of January, it's gone to the horsebox builders for the Luton fitting which is very exciting, but it will definitely be the most expensive bed I've ever bought, haha!
Blossom will be getting her usual pre-competition MOT of teeth, physio, new shoes and fresh clip this week then we will be looking forward to planning some training and shows once the wagon is back.
Thanks for reading,
Christie x'
If you liked reading this, you might also like The benefits of massage and heat in horses